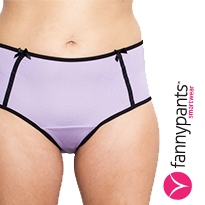 Chantilly, VA, April 29, 2014 --(
PR.com
)-- Fighting Women's Incontinence with Fashion
Quick-drying, moisture wicking, comfortable, stylish and eco-friendly are the latest buzzwords for flourishing start-up Fannypants. With an innovative new product line designed to undertake light stress incontinence, Fannypants Smartwear is providing alternative women's apparel to promote healthy and active lifestyles.
Fannypants promotes lifestyle apparel for women between the ages of 30-65 who occasionally need protection against light bladder leakage for daily activities. Fannypants CEO, Sophia Parker, understands the predicament women face when incontinence accidents occur. Her answer is the innovation of Fannypants Smartwear -- combining style and functionality to improve the quality of everyday life for women dealing with light incontinence.
The revolutionary Smartwear Panty is a leak proof panty with removable and waterproof features that advocates for women's wellness and enhances confidence by providing the panty women can trust. The product made of nylon, spandex, cotton, polyester, and viscose offers desirable softness and elasticity with attractive designs, while functioning as a safeguard against leakage and odors. A seamless transition from regular panties, Fannypants apparel ranges from sizes small to 2XLarge in an array of colors and suits every occasion from the boardroom to a dinner date, traveling, sports and more. Travel pants with quick dry, odor free, and moisture management is now available for women travellers.
Each Fannypants panty comes with a lined waterproof gusset, and 100% cotton pockets to hold a moisture pad in place. Up to ten times more absorbent than cotton, the superabsorbent pads are washable, reusable and environmentally friendly.
For women who understand the need to feel assured, protected and free from the worries of light bladder leakage -- Fannypants is making the difference! www.fannypants.com
For retailing and distribution contact:
Sophia Parker, CEO Fannypants, LLC 4229 Lafayette Center Drive, #1150 Chantilly, VA 20151 (703)953-3099