Whitewood Solutions Announces an Affordable Way to Help Tax Professionals Create Year-Round Revenue
Whitewood Solutions is rolling out the most affordable way for tax professionals to obtain year-round revenue streams and help their clients resolve their delinquent tax debts. By partnering with Whitewood, a tax professional, no matter the size of their practice, can hire an entire team of trained Tax Resolution Specialists to do all of their tax help work for a flat monthly fee. With an average case fee size of well above that, this program ensures a far from typical profit margin.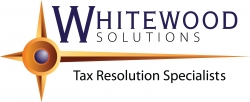 Richmond, VA, May 12, 2014 --(
PR.com
)-- Whitewood Tax Solutions is proud to announce that after testing their tax resolution professional partnership program for over 2 years...Whitewood is finally releasing it to the general public to allow Tax Professionals across the country an opportunity to enroll in their program.
Whitewood's flat monthly fee program has shown great success in various states across the country such as Virginia, California, Texas, New York, Georgia and many more. For less than $5000 a year, their program is affordable for even the smallest firm.
Many of Whitewood's full-time partners operate their business year-round and earn tax help revenues well over their tax preparation revenues per year based on enrolling clients into the tax help side of the tax industry.
Despite many companies who have given the Tax Resolution industry a bad name by providing poor service or in some cases, no service at all...Whitewood is proving that tax resolution services can be offered and completed in an affordable, effective and complaint-free manner.
Whitewood has a unique six-step process that has been dubbed "The Whitewood Way" and is effective, affordable and complaint-free. This process will allow tax professionals to confidently offer tax help services without the fear of someone dropping the ball or not attending to the needs of their client since the tax professionals deal with their own clients and Whitewood deals with the IRS/State Taxing Authority on the tax professionals behalf.
It is a win-win for everyone involved including the Government. The Tax Professionals Partnering with Whitewood get a "Raving Fan" for a client, the Government gets assistance in obtaining a resolution and Whitewod keeps their business growing! It does not get any better than that!
Now, Whitewood is confident that tax professionals will be interested as well as have many questions regarding tax resolution and how to get started in this rewarding and viable business. Remember, one of the best parts of this industry, is the ability to help numerous individuals and small business owners resolve their tax debt with the IRS and State taxing authorities while earning a substantial income and life-long clients for tax preparation moving forward for many years to come.
Through this program, Whitewood Tax Solutions, has enabled tax professionals to set-up their new tax help business right in their own community and capitalize on the billions of dollars that go unpaid to the IRS by millions of American's in the United States. The great news is that Whitewood will do all the work on each tax help case with the IRS and State for your team.
It is all done by certified tax resolution specialists that work diligently on your behalf until the case is fully resolved by placing the client into one of the (4) Four IRS relief programs available to the taxpayer.
Additionally, Whitewood has the support staff, computer software programs and on-going training programs that support the business year-round.
Whitewood has attached some key points about their program as well as their actual agreement for review (please see attachment). This will answer many questions that tax professionals may have regarding the tax resolution business and the potential business relationship with Whitewood.
Note: There's only a flat monthly subscriber fee of $395 in order to participate in this program and within 24 hours your firm will be granted access to their industry specific computer software system. The Initial training fee is $295 and covers knowledgeable team member training for your entire team on Tax Resolution as well as Whitewood's industry specific software system.
Ready to Just Go Ahead and Get Started? Click The Link Below:
www.hireataxhelpexpert.com/Partners.html
If there are any questions still remaining, feel free to contact Natascha Harris, Supplemental Services Director or Mike Davis, VP Of Business Development at 804-506-0911.
Contact
Whitewood Solutions
Darin Branch
804-506-0911
www.fixmytaxproblem.com

Contact
Multimedia
A detailed overview of Whitewood Tax Solutions with information on how you can get started.