Talented Young Artist, Backed by All-Star Band, to Debut "Salute" to Wounded Heroes
Free Memorial Day weekend concert May 25 in West Palm Beach to benefit Coalition to Salute America's Heroes.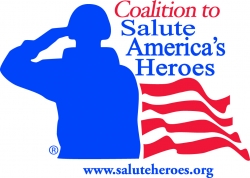 West Palm Beach, FL, May 12, 2014 --(
PR.com
)-- Cassidy Diana was first exposed to the sacrifices of America's military through the multiple tours of duty served by her father. Those experiences led the aspiring singer and songwriter from Palm City to pen her first song, "The Call," in tribute to her dad.
Last December, Cassidy was invited to sing the National Anthem at the Road to Recovery Conference, a five-day, all-expenses-paid event in Orlando for combat-wounded veterans hosted by the
Coalition to Salute America's Heroes
. She was so moved by the Coalition's work that she composed another piece, entitled Salute, and pledged all proceeds from the song to the veterans' service organization.
On Sunday, May 25, Cassidy will officially debut Salute at a free Memorial Day concert at the Delray Center for the Arts. She will be joined on-stage at the Crest Theater by the all-star band of world-renowned musicians that performed on the track, produced by SeaSide Music Management, Technical Productions and OffShore Talent, including
-- The Livesays, featuring Billy Livesay, songwriter, guitarist and vocalist who played for 13 years with Clarence Clemons' Temple of Soul, Tony Stevens' Original Foghat, and has multiple credited recordings and performances with many other chart-topping bands;
-- The Vinyl Connection Band, featuring five world-touring musicians from Brooks & Dunn, Foreigner, Three Dog Night, Poco, Michael McDonald, The Rascals, Leon Russell, Whitesnake and many others.
-- Wayne Nelson, lead singer and bassist of the Little River Band; and,
-- Phil Kenzie, who has played saxophone on countless iconic records, including The Beatles' Let It Be and The Eagles' Long Run.
"It's difficult to express how grateful we are to Cassidy, and to the extraordinary artists that assembled around her, for the gift they have bestowed upon us in the form of Salute," said David Walker, CEO of the Coalition to Salute America's Heroes, a leading not-for-profit organization dedicated to rebuilding the lives of severely wounded veterans of the global War on Terror. "Not only is the song absolutely sensational, but its message of pride, heroism and patriotism is truly inspiring. I can't wait for the world to hear Salute for the first time on Memorial Day weekend; and from there, I believe the sky's the limit for Cassidy and her promising career."
Cassidy Diana is no stranger to the bright lights. The 15-year-old singer/songwriter has already opened for such chart-topping artists as Darryl Worley and Tyler Farr, and has recorded with Trace Atkins' touring band.
"I'm really excited to perform Salute on-stage for the first time, and it's really cool that the incredible musicians that lent their talents in the recording studio have agreed to join me," she said. "It's going to be a great show, featuring a lot of awesome tunes everyone will recognize, and it will all be in tribute to the brave men and women that have sacrificed so much to defend our freedom."
The public is invited to the free, two-hour concert at the 325-seat Crest Theater, which will also be attended by dozens of combat-wounded veterans from across Florida invited by the Coalition. The show will begin at 7 p.m. A special meet-and-greet reception with the artists will follow the performance.
This event is free, courtesy of the Coalition to Salute Americas Heroes. General admission only. Donations to the Coalition will be accepted at the venue.
About the Coalition to Salute America's Heroes
The Coalition to Salute America's Heroes, based in Leesburg, VA, has provided an invaluable lifeline to thousands of America's wounded veterans since its establishment in 2004. The Coalition is distinguished from other veteran-focused organizations by its direct financial assistance to America's wounded heroes. Its Emergency Financial Aid program has stopped foreclosure proceedings on veterans' homes and kept their vehicles from being repossessed. The organization regularly provides gift checks to cover meals, medical and utility bills, clothing, car repairs and even baby diapers.
For more information on the Coalition, and to learn how you can support its mission, visit www.saluteheroes.org.
Contact
Coalition to Salute America's Heroes
Ladd Biro
817-675-3499
www.saluteheroes.org
Champion Management is proud to be the Coalition to Salute America's Heroes' PR agency of record.

Contact