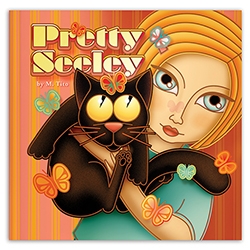 Delray Beach, FL, May 17, 2014 --(
PR.com
)-- Good Puppy is pleased to announce the publication of "Pretty Seeley." Written and illustrated by Marina Tito, "Pretty Seeley" illuminates the gentle journey to self-acceptance and self-love.
Seeley is a little girl with a spot on her nose. While a source of embarrassment for her, Seeley's intriguing imperfection doesn't seem to bother her cat, Mao. The wide-eyed cat, the friend we all want and the friend we should all aspire to be, sees Seeley's spot as a reflection of her inner beauty.
Mao believes the spot is a shadow a butterfly left behind and proposes a search for the allusive creature. The journey guides Seeley into a new understanding. The story reframes a seemingly negative attribute by giving it a positive and deeper meaning, helping Seeley and the reader reprioritize and smile at their old frame of mind while thinking... — Yes, that was Pretty Seeley.
"Pretty Seeley" is available on iBooks, Kindle and in print, through Barnes & Noble, Amazon and other national and international retailers. For more information, visit
goodpuppy.com
.
"Pretty Seeley"
Written & Illustrated by Marina Tito
Recommended for children, ages 3 to 7.
Publisher: Good Puppy
Website: goodpuppy.com
Email: books@goodpuppy.com
Publication Date: September, 2013
Language: English
Preview the book online
http://www.goodpuppy.com/review
Download Free for a limited time on iBooks
http://itunes.apple.com/us/book/isbn9781940692029
Request a hardcover for review
info@goodpuppy.com
Hardcover edition
ISBN-13: 978-1-940692-20-3
ISBN-10: 1940692203
8.5" x 8.5"
38 pages
http://www.barnesandnoble.com/w/pretty-seeley-m-tito/1118067027
iBooks edition
ISBN-13: 978-1-940692-02-9
ISBN-10: 1940692029
Made for iBooks
For iPad and Mac
Read To Me
Download free for a limited time:
http://itunes.apple.com/us/book/isbn9781940692029
Kindle edition
ISBN-13: 978-1-940692-08-1
ISBN-10: 1940692081
Read Only
http://www.amazon.com/Pretty-Seeley-M-Tito-ebook/dp/B00FP6NGL4/ref=la_
B00FL02VV0_1_3_title_1_kin?s=books&ie=UTF8&qid=1391541656&sr=1-3