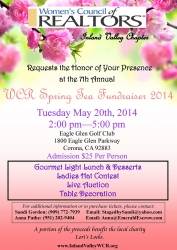 Corona, CA, May 20, 2014 --(
PR.com
)-- The Inland Valley Women's Council of Realtors (WCR) is having their annual "Hats Off to You" spring tea fundraiser on Tuesday, May 20th, 2014. The event, which is chaired by Sandi Gordon and co-chaired by Anna Pathe, is hoping to raise money and awareness for Lori's Locks. This is the seventh year that the Inland Valley WCR has been hosting this event, which started out with a group of 50 women and has since grown to over 300. The women are encouraged to wear big, beautiful hats to enjoy the formal afternoon tea, which will include a hat contest and a live auction. A portion of the proceeds raised from the event will go directly to Lori's Locks.
What: Spring Tea
When: May 20th from 3pm-5pm
Where: Eagle Glen Golf Course
Why: To generate money to benefit Lori's Locks
Cost: $25 per person
Lori's Locks, is a Corona-based non-profit charity named after a women named Lori Thyr, who passed from two bouts of a rare form of leukemia. Thyr had lost all of her hair during chemotherapy. This charity was named in Thyr's honor and primarily serves to help purchase wigs for women who are undergoing chemotherapy. If you would like to make a donation directly to Lori's Locks, checks can be made out to the Foundation for Community and Family Health with a memo to Lori's Locks. They can be dropped off at the foundation: 815 West Sixth Street, Suite 110,
Corona
, CA 92882.
The Women's Council of Realtors is a network of successful REALTORS®, advancing women
as professionals and leaders in business, the industry and the communities they serve.
James Free Properties is a sponsor of the Inland Valley WCR Annual Tea.