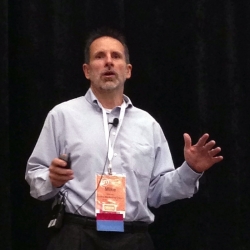 Broadview Heights, OH, May 23, 2014 --(
PR.com
)-- Marketers can learn how to effectively shape and track SEO for content marketing and ROI goals during a special half-day pre-conference Content Marketing World workshop.
The September 8, 2014 session, "Planning, Refining and Measuring SEO for Content Marketing," will be led by Mike Murray, an online marketing expert with 27 years of print and digital experience.
Early Bird registration rates will be offered through May 31, 2014 (the workshop is an additional fee). A promo code is available: MurrayCMW.
Register today for Content Marketing World and the SEO workshop in Cleveland, Ohio:
http://contentmarketingworld.com/?utm_source=1050
"I'm looking forward to helping marketers put SEO in perspective. Amid all of the marketing options, SEO is especially oriented towards content," says Murray, president of Online Marketing Coach. "But search engine optimization can't be viewed only as an online marketing specialization. SEO must influence leads and sales."
The Content Marketing World workshop will include:
- Hands on, custom coaching for attendees' unique SEO challenges
- Specific guidance on how to integrate SEO with a content marketing strategy focused on ROI
- How to leverage web analytics with SEO and content marketing
- Keyword selection insights
- Link building tactics
- Additional tips and tools
Murray, who has authored numerous SEO articles and studies, speaks at regional and national conferences throughout the United States, including New York City, Chicago, San Jose, Providence and Cleveland. His new book, "Stop Wishing. Start Winning: How Small Businesses Can Win Big with Online Marketing," will be released October 22.
He has worked with B2B and B2C companies ranging from small to large businesses, including Bissell, Little Tikes, KeyBank, MTD, the Cleveland Clinic, Eaton Corp., Sauder and FedEx Custom Critical.
In addition to Murray, Content Marketing World will include about 100 other speakers from such companies as Progressive, Kraft Foods, Microsoft, Facebook, SAP, and Cisco Systems. Actor, Director, Producer Kevin Spacey will be the closing keynote speaker at the marketing event that's expected to attract marketers from 50 countries.
About Online Marketing Coach
With a focus on small businesses, Online Marketing Coach offers an array of Internet marketing services, including search engine optimization (SEO), paid search management (also known as pay-per-click or PPC), web site design, e-mail marketing, social media and more.