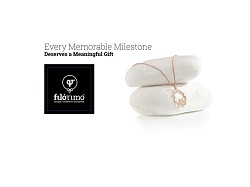 Maroussi, Greece, May 24, 2014 --(
PR.com
)-- Filotimo Gifts announces the launch of their new collection, ETOS, created specifically to commemorate memorable milestones in 2014.
Filotimo Gifts launches their new specialized online gift store today, setting new standards for an unrivalled gift giving experience. The ETOS Collection of Filotimo Gifts offers a blend of gift items ideal for special occasions, ranging from graduations, engagements, weddings, and birthdays and thrives on ensuring that each piece of jewelry is unique, high in quality and has meaningful design elements incorporating the year 2014.
The ETOS collection by Filotimo Gifts is comprised of necklaces, bracelets, earrings, cufflinks and key rings, worthy of special occasions, and available only at filotimogifts.com. The collection priced from $59-$139, features 60 styles hand crafted in either 18ct rose gold, 24ct yellow gold or rhodium plated 925 sterling silver.
Commenting on the launch of the website, Maria Maragoudakis the founder of Filotimo Gifts said, "I truly feel that gift giving helps define relationships and strengthens bonds with family and friends. In Greece a person has 'Filotimo' when they derive greater pleasure from giving than from receiving and this is exactly what I hope to encourage with Filotimo Gifts." She further added, "I wanted to fill the gap in the gift giving market and offer a one-stop-shop for captivating gifts for memorable milestones that can be directly delivered to your or your recipient's door with just a click of a button."
Maria Maragoudakis also said, "We always ensure our products are beautifully designed and cater to different people's tastes and styles, never compromising on our principles of affordability, quality, and originality."
Filotimo Gifts' products are available for order online internationally and are shipped free of charge to the US and Europe. Visit Filotimo Gifts at www.filotimogifts.com
About Filotimo Gifts Ltd.
Filotimo Gifts is an online gift boutique offering handcrafted unique products made in Greece. At Filotimo Gifts, we truly care about high quality design and creating exquisite items to offer our customers. We have an eye for detail and are dedicated to creating perfect items for gifts. We feel that beautiful things can make a difference in the quality of our lives and those special to us. The name Filotimo derives from the unique, powerful and complex Greek word that is expressed through acts of generosity and sacrifice without expecting anything in return. The name truly inspires our work ethics and beliefs. We are a company dedicated to providing personable customer service and following our strong principles, both in life and in our business practices. We believe in not only striving to fulfill our customers' needs, but also to offer a wonderful selection of inspired products which are distinct, of quality and have remarkable design elements. We offer a selection of wonderful items for both gifts and for yourself that can bring harmony, happiness and balance to your life. For everyone dedicated to giving the most delightful gifts to your loved ones and for those who just simply love beautiful things, Filotimo Gifts is the place to shop. Join us and revel in the world of Filotimo today.
Contact Information:
Filotimo Gifts
Sorou 79
Maroussi, Greece
1-617-939-9663
www.filotimogifts.com
sales@filotimogifts.com