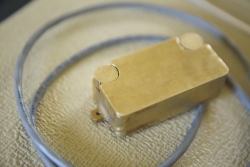 Livermore, CA, May 25, 2014 --(
PR.com
)-- Dialtone Pickups has announced the upcoming release of the Dialtone Pickup, the guitar industry's first-ever infinitely tone-adjustable electric guitar pickup.
Designed by John Liptac, who holds a PhD in Plasma Physics from MIT and has a background in Engineering, Dialtone Pickups allow musicians an unprecedented level of control over their electric guitar's sound through two independently adjustable knobs integrated directly onto the pickup. These knobs allow adjustment of the two fundamental qualities responsible for determining a guitar's tone, namely the "resonant frequency" and the "Q values" of the pickup.
The resonant frequency and Q values are fixed in traditional pickups through the more familiar qualities such as number of turns, resistance values, and inductances, which produce a characteristic sound. Dialtone Pickups circumvent these limitations and provide infinite tonal possibilities through the use of active circuitry. Dialtone Pickups offer low output impedance and are insensitive to tone robbing cable capacitance effects. The Dialtone Pickup is currently offered as a drop-in humbucker replacement.
Dialtone Pickups will be hosting a live demonstration of the Dialtone Pickup on Sunday, June 1st at Panama Red Coffee Co. in Livermore, California. Following the event, Dialtone Pickups will release its Kickstarter campaign, at which point a limited number of pickups will be made available for pre-order.
For more information, visit www.dialtonepickups.com.