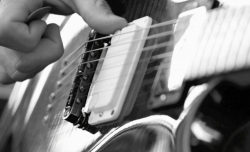 Livermore, CA, June 02, 2014 --(
PR.com
)-- Dialtone PIckups, an early-stage startup based in Livermore, California, has launched a Kickstarter campaign to help fund the development of their infinitely tone-adjustable electric guitar pickup.
Designed by John Liptac, who holds a PhD in Plasma Physics from MIT, Dialtone Pickups claims the world's first infinitely tone-adjustable electric guitar pickup. Promising to be a boon to professional and amateur musicians alike, Dialtone's new guitar pickup is endlessly adjustable right on the guitar. With no need to switch between limited pickup combinations in the search for that "perfect" tone to suit your style, the new Dialtone pickup lets players simply dial it in on the fly.
Complete with user-controlled adjustments for resonance and "Q" (how "good" the sound is), Dialtone's pickup makes an endless combination of tonal variations possible, allowing you to quickly dial-in tone and clarity that simply cannot be achieved with standard pickup combinations. And, as a direct drop-in replacement for current humbucker pickups, Dialtone's infinitely tone-adjustable pickup will make the switch to a vastly better sound that much quicker and easier.
To be successful in this campaign, Dialtone needs to pre-sell a minimum of roughly 250 sets to meet their minimum goal, without which development of an infinitely tone-adjustable pickup will be delayed indefinitely.
A video demonstration of the pickup as well as additional information regarding ordering can be found on the organization's Kickstarter campaign,
https://www.kickstarter.com/projects/157066503/dialtone-pickups-custom-tone-machines
To learn more about Dialtone Pickups, visit www.dialtonepickups.com.
About Dialtone
Formed specifically to produce the infinitely tone-adjustable guitar pickup, Dialtone is a company with a passion for music, a flair for creativity, and a strong technical background that all combine in a company dedicated to creating innovative products for musicians.
Founder John Liptac is an avid guitarist who grew tired of swapping out and rewiring pickups in his search for the perfect tone decided to make one that would be infinitely adjustable on the guitar itself. To this end, John drew on his technical ability (he has a BS in Interdisciplinary engineering from the University of Washington and a PhD in Applied Plasma Physics from MIT's Department of Nuclear Engineering) to design and build the industry's first infinitely tone-adjustable guitar pickup.