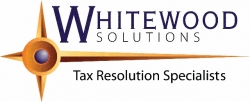 Richmond, VA, June 03, 2014 --(
PR.com
)-- Whitewood Solutions has teamed with Liberty Tax Service in Virginia Beach to offer their flat fee tax resolution program to Liberty franchise owners across the country.
With Whitewood's team of tax help experts on their side, participating Liberty store owners will be able to offer tax help services to clients across the country through the Whitewood Solutions program.
Liberty Tax is already a leader in the franchised tax preparation industry and by adding tax representation services to its menu of franchisee services, it really will be a game changer for the tax preparation industry as a whole.
Every year, millions of taxpayers find themselves in trouble with delinquent tax debt and have no idea where to turn because, until now, most franchised tax firms did not offer any services pertaining to resolving delinquent tax debts.
By enabling Liberty Tax franchise owners the ability to help customers release a wage or bank levy, negotiate realistic payment plans and even settle tax debts through the Offer in Compromise program at the IRS and state level, Whitewood can help Liberty capture a portion of the tax preparation market that has gone virtually untouched by franchised tax professionals thus far.
John Hewitt, Liberty's founder and CEO, has raised the bar for tax preparation firms by adding the Whitewood program to his already successful brand.
Whitewood and Liberty Tax expect a large portion of their franchise owners to participate and look forward to helping the millions of Americans that currently have an IRS debt.
Whether someone is already on an installment agreement with the IRS to resolve their tax debt, the first place an American taxpayer needs to go if they owe the IRS is a participating Liberty Tax office. There they will have a free "face to face" consultation with a Liberty Tax help professional to begin releasing the burden of owing the IRS.
Whitewood Solutions Founder and CEO, Darin Branch had this to say about this exciting announcement, "Liberty Tax is a Virginia based company who, just like Whitewood, shares the same core values such as honesty and integrity. The tax industry is changing. Liberty and Whitewood are at the forefront of this change by allowing the franchise owners at Liberty to offer affordable and effective tax help to taxpayers in need through the Whitewood Solution process. It is a very exciting time for Whitewood."