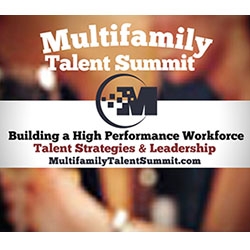 Temecula, CA, June 05, 2014 --(
PR.com
)-- Multifamily executives and their management teams are encouraged to register now to attend the inaugural
Multifamily Talent Summit
, to be held Sept. 22-24, 2014 at Wilson Creek Winery in Southern California's beautiful Temecula Valley Wine Country.
Why? Because during this first-of-its-kind event, they will learn leadership strategies on creating great teams, increasing the value for their properties and portfolios. Learn from top minds on how to retain and manage a winning team. And what could be better for business?
"Having the best team is a must in the multifamily industry, and it's a requirement to stay competitive," said Matt Novobilski, director of asset management at Raintree Partners and a featured panel expert for the Multifamily Talent Summit.
"The management teams strategy on attracting the best people is a key indicator of how we select our third party property managers," Novobilski said.
There are many conferences centered on strategies to acquire new residents and drive financial results for owners through transactional operating activities and marketing; at the Multifamily Talent Summit, attendees will learn about how to achieve all of that through people.
"A great resident experience and strong financial results are outcomes of great teams," said Patrick Antrim, founder and CEO of inMultifamily Inc. and Multifamily Jobs. "Top talent is an outcome of who you become as a leader, business unit, team or company."
During the summit, forward thinking leaders and companies will learn strategies that winning organizations use to attract and retain the best talent. This will be the single most important factor in distinguishing oneself as a leader or gaining that new management account.
"Asset managers and owners are encouraged to attend so they can better understand how to evaluate strong management companies," Antrim said. "Everybody knows how to go after a resident or customer but they need a culture of performance to generate results."
Attendees of the Multifamily Talent Summit will also hear from Alexandra Jackiw, a nationally recognized leader and educator in the multifamily industry and president of Milhaus Management, LLC. Jackiw will speak about how important it is for apartment operators to develop performance-driven cultures.
"The multifamily industry has historically embraced a 'rear-view mirror' management style that focused on financial measures to drive employee performance," Jackiw said. "As the needs of our business change, it's critical that leaders shift to a perspective that balances financial results with the use of leading performance indicators. Those indicators will help identify patterns and trends so that actions can be taken to drive better business outcomes."
Jackiw went on to say: "Companies that create successful performance-driven cultures will be more nimble and able to adjust business strategies as new business patterns emerge. A performance driven culture will also drive changes in the operational behaviors of managers and employees."
So who should attend the Multifamily Talent Summit? Industry professionals should register if they:
· Desire to increase the value of their company, property or portfolio with high performing teams;
· Believe that people are their most important asset and that results matter;
· Are leaders with the courage and commitment to build better teams for their company because they know it will generate results;
· Understand that hiring great people is about more than advertising a job, using cool technology, and requires leadership to create a culture of performance; and
· Want to tap into the expert minds of speakers and colleagues to fast track their ability to build high performing teams in their organization.
Registration is available on an individual or group basis. The registration fee includes an all-access pass to the summit; additional online access to video recordings, articles, executive interviews and webinars.
"Our industry is faced with a significant shortage of qualified workers," Jackiw said. "We have to do a better job of upgrading our talent base and retaining our strongest performers. The best way to hang on to the 'rock stars' in our companies is to work with them to develop meaningful career paths that will keep them engaged."
Said Jackiw: "That is a management intensive, but very important leadership role. Without talent, a real estate firm cannot survive. Those companies that are able to recruit, engage, reward and retain the very best people will emerge as the most successful organizations."
To learn more about the Multifamily Talent Summit, and for registration or sponsorship information, visit http://multifamilytalentsummit.com or call 800-617-8956.
Media contact:
Maggie Avants
maggie_avants@yahoo.com