Finger Lakes Winery's Pursuit of Excellence Now Includes Brunch - Bellangelo Offers Father's Day Experience
Master Sommelier Christopher Bates and wife Isabel Bogadtke to prepare spectacular brunch to be paired with Bellangelo's fine wines in celebration of Father's Day and the culmination of 2nd Annual Wine Symposium of the Finger Lakes.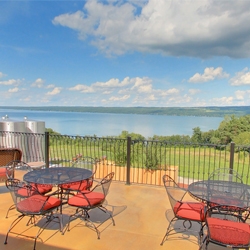 Dundee, NY, June 05, 2014 --(
PR.com
)-- Villa Bellangelo continues its commitment to extraordinary quality in winemaking, customer service and the ultimate in experiential tourism, by launching the first annual Father's Day Brunch, to coincide with the conclusion of the Wine Symposium of the Finger Lakes. On June 15, 2014, from 10:00 - 1:00, the winery will host Master Sommelier and highly acclaimed chef Christopher Bates and his wife Isabel Bogadtke, as they prepare a combination of courses that will satisfy the appetite of every attendee, and perfectly pair with wines produced at Bellangelo. Bates and Bogadtke recently opened the FLX Wienery to rave reviews for its fresh take on classic comfort foods. The brunch will be served on Bellangelo's gorgeous terrace overlooking Seneca Lake.
Additional locally produced beverages will be available for purchase, including pints of craft beer and tastes of cocktails produced from Finger Lakes distilled spirits. From FLX Mimosa's to FLX Bloody Mary's, the event focused around a menu of locally sourced foods is sure to become a family tradition for those who love the beauty of the region, Finger Lakes wines, and Finger Lakes cuisine.
For questions or reservations, please call the winery at (607) 243-8602. Tickets are $27.99 may be purchased at the winery or online by visiting Bellangelo.com and clicking the Brunch button on the homepage. Each ticket includes two rich and filling brunch courses, and each pair of tickets includes a bottle of Bellangelo's bestselling Moscato.
www.bellangelo.com/products/father-s-day-and-wine-symposium-brunch-june-15-2014
Villa Bellangelo, owned by the Missick Family, is beautifully located on the west side of Seneca Lake, about ten minutes north of Glenora Winery. Since purchasing the property, the winery has been entirely renovated and have produced wines that are consistently praised by knowledgeable consumers and critics alike.
Chef Christopher Bates' Bellangelo Brunch Menu
Course 1:
Chilled Summer Soup (strawberry and rhubarb), black pepper syrup & herbs
Course 2:
"FLX Toast": Five Spiced French Toast, Peach Compote, Ricotta
Or
"Blue Crab Benedict": Chilled Blue Crab Salad, English Muffin, Poached Eggs, Smoked Hollandaise
Or
"Biscuits & Gravy": Riesling, Black Pepper & FLX Wienery Sausage Gravy, Fresh Biscuits, Poached Eggs
Contact
Villa Bellangelo Winery
Christopher Missick
714-317-8842
www.bellangelo.com

Contact