Volo's First Customer Launches High-Speed Internet Access Service in Northern Uganda in Less Than 12 Weeks
New ISP Zoom Wireless uses Volo's software integration and expert network design to deliver affordable high-speed services to business and residences in Gulu.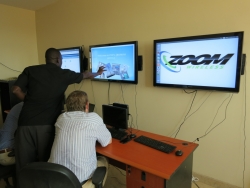 Gulu, Uganda, August 18, 2014 --(
PR.com
)-- Backed by Volo's expert design and cloud-based software integration, Northern Uganda's newest Internet Service Provider (ISP), is now delivering the most affordable high-speed Internet access to businesses and residences in the region.
Zoom Wireless (
www.zoom.co.ug
), a part of SINFA Uganda LTD, began offering a range of corporate and small business/residential grade fixed wireless services in Gulu, Uganda, within weeks of partnering with Volo. A new start-up built based on years of field experience and designed in Silicon Valley, Volo enables ISPs and telecom providers in emerging markets to design and deploy fixed wireless broadband services quickly and profitably.
With Volo's engagement, the new ISP has designed and deployed a carrier-grade last mile WiFi network. This network is fiber-backed and integrated with the latest cloud-based management software, enabling Zoom Wireless to deploy it with 10 times less capital and operating cost than traditional LTE networks.
"Volo's experts got us up and running from greenfield to market in under 12 weeks. That would have been impossible without them," said Joseph Walusimbi, General Manager of SINFA Uganda LTD and Zoom Wireless. "Now we have the systems to manage the network and the skills to deploy and expand it. We've already exceeded our goals for time to market and customer response to our first of a kind affordable fixed wireless service has been rapid."
Zoom Wireless is offering Internet services for corporate customers with speeds from 1-9 Mbps and small business/residential options of 512 kbps, 1 Mbps or 3 Mbps at approximately 50% of the rates of their competitors and no usage caps. Custom-managed WiFi services are also available.
While these speeds may seem low in the context of developed world economies, the ability for ISPs or telecom providers to offer these services at affordable prices in emerging and frontier markets like Northern Uganda is transformative. Faster, more reliable access to the Internet is driving real productivity and employment.
This transformation was seen immediately at SINFA Uganda LTD's Microwork division, where employees perform digital business process outsourcing that is 100% reliant on Internet access to download and upload data. Connected to the Zoom Wireless network in July as an early customer trial, the amount of microwork completed in one month was double their typical output. This boom in productivity meant they were able to not only perform more work but also employ more workers, increasing both revenue and job opportunities.
"With these speeds, the future of the cloud is here. Businesses and consumers can confidently access cloud-based productivity tools that fuel economic growth that include Google Apps, Microsoft Office 365, Quickbooks Online and YouTube," said Mark Summer, CEO and co-founder of Volo. "As Volo's first customer, Zoom Wireless proves the need for and impact of Volo's services. Building on the success of Zoom Wireless, Volo is now ready to make our cloud-based ISP automation platform available in limited release and work with providers in Africa to demonstrate the speed and profitability that can be achieved with our system and expertise."
For more information please go to: www.volobroadband.com.
About Volo
Volo (
www.volobroadband.com
) enables ISPs and telecom providers in emerging markets to design and deliver radically low-lost broadband networks to the market in weeks, not months. Volo's cloud-based platform, to be released later this year, automates the ability for ISPs and telecom providers to deploy fixed wireless broadband using radically low-cost last-mile WiFi networking technologies. This integrated software platform simplifies how providers design and manage fixed wireless networks, set up and provision services, and serve and bill customers. The platform incorporates best practice workflows for emerging markets designed by Volo's expert team and shaped by years of field experience. With features that provide complete operational awareness, Volo's customers can manage operational costs and deliver an amazing customer experience.
Contact
Volo Broadband
Peter Brooks
415-425-4225
http://www.volobroadband.com/

Contact
Multimedia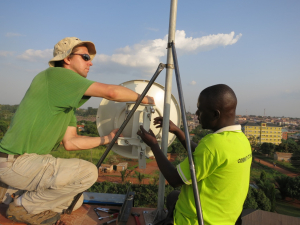 Volo Co-founder and CTO Andris Bjornson and Zoom Wireless Site Engineer Bernard Oola installing equipment in Gulu, Uganda