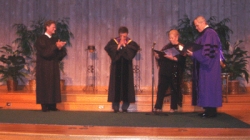 Fort Lauderdale, FL, October 16, 2007 --(
PR.com
)-- The Rev. Ernest D. (Ernie) Chu received the award of ordination from Religious Science International (RSI) at a special ceremony on Friday, Oct. 12, at The Center for Spiritual Living – Ft. Lauderdale, a Religious Science center in South Florida.
"This is the highest award a Religious Science minister can earn," noted Dr. Arleen Bump, representing Religious Science International, the national association of Religious Science pastors. "It bestows the status of 'reverend' as a "lifetime title – an award earned by notable accomplishments, years of effective ministry and teaching, and outstanding service to Religious Science International." Dr. Bump is co-pastor of The Center for Spiritual Living - Ft. Lauderdale.
Chu has served as a licensed assistant and staff minister at The Center for Spiritual Living for the past seven years. He helped start and build the center's Midweek Service; founded the Spirit at Work outreach group, now in its tenth year; developed curriculum for and taught spiritual abundance classes; and served on the center's Board of Trustees for nearly 12 years. His spiritual counsel, service and compassion have earned him praise and love from his numerous students at the center and throughout the nation.
Chu also has served on key working committees for RSI: as chairman of the Fund Growth and Development Committee; as a member of the New Works Scholarship Committee; and as a member of the Ministerial Standards Committee. His booklet, "Effective Church Finances and Spiritual Enterprise," is required reading for new ministers and is a part of the RSI Minister's Handbook.
A former investment banker, Chu is a nationally known speaker and visiting minister at many Religious Science churches and other New Thought centers throughout the United States. He also is the founding director of The Soul Currency Institute, based in Deerfield Beach, FL (www.SoulCurrency.org) and the author of the forthcoming book, "Soul Currency: The Secret of Being Well Paid for Doing What Really Fulfills You." Pre-publication drafts of that book have garnered endorsements from such noted teachers as Dr. Deepak Chopra, Mark Victor Hansen, Jean Houston, Barbara DeAngelis, and many others.
###