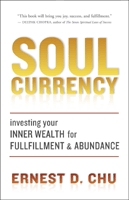 Established in early 2006, the Soul Currency Institute's current and planned offerings include:
• Courses and weekend retreats in finding what is meaningful;
• Ways to find business models that allow course participants to be passionate and prosperous about what they do;
• Online and local Mastermind groups;
• Courses that create Prosperity Consciousness;
• A Spiritual Entrepreneur Program;
• Fund Development Certification;
• Marketing and Promotion Consciousness: Growing Business by Leaps and Bounds;
• Spirituality at Work;
• Servant Leadership: The New Organization.
Soul Currency author Chu developed and field-tested The Soul Currency Institute's courses, which are designed to empower all participants to find greater fulfillment in work and all aspects of life. The Institute's courses have a spiritual content but are not religious in nature.
The recommended reading lists for the Institute's courses range from Wayne Dyer's Inspiration to Colin Tipping's "Radical Forgiveness," Gregg Levoy's "Callings," and Marsha Sinetar's "Do What You Love, the Money Will Follow," as well as Ernest Chu's "Soul Currency."
That book has been endorsed by major presenters and bestselling authors such as Dr. Deepak Chopra ("The 7 Spiritual Laws of Success"), Mark Victor Hansen ("Chicken Soup for the Soul"), relationship guru Dr. Barbara DeAngelis, human potential movement leader Jean Houston, Dr. John Gray ("Men Are From Mars, Women Are From Venus"), Alan Cohen, Michael Stephen, former chairman of Aetna Financial Services, and many others.