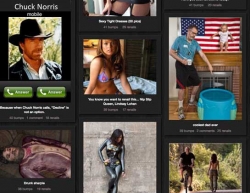 Springfield, NJ, June 12, 2014 --(
PR.com
)-- MANteresting is now under New Ownership. MANteresting was purchased from the original founders, Jesse Michelsen and Brandon Patch, by a group of investors (who choose to remain anonymous at this time). One of the members of the investment group noticed that the site had been shut down in January 2014. He reached out to the original founders and started the process of purchasing the site and all the rights to the MANteresting brand name. The MANteresting site was turned back on in mid-January during the negotiations.
"This has been a fantastically exciting opportunity to purchase the MANteresting site and brand."
The investment group believes that MANteresting will be a great addition to its portfolio of sites. The site has a target market of the product & style oriented influential young male consumer who is driven by fashion, music, sports, games, gear and girls. MANteresting's analytics include: visitors that are 85% male, 90% from the US and 76% that are between the ages of 18 and 44, all highly desirable demographics.
MANteresting.com Version 3.0 Beta of the site, created by the new ownership, went live in late May 2014. Visitors to MANteresting.com can look forward to additional changes in the coming weeks and months. The highlights will be a totally revamped, "souped-up" desktop version of the site, and iOS and Android apps and much more. The new ownership will have the resources with which to back, support and grow the site and company. They will bring novel ideas, new energy and ambitious plans for growth and that should mean additional opportunities for all involved.
About MANteresting:
MANteresting is a photo and video entertainment website targeted towards men. All images and videos appearing on MANteresting are posted by the MANteresting community; the site consists entirely of user generated content (UGC). MANtersting is home to some of the best photos and videos on the web. Our community posts (we call it Nails) photos and videos in over 30 different Interests sections on the site. MANteresting has over 500,000 photos and videos and this number is growing rapidly every day.