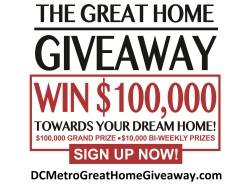 Alexandria, VA, June 13, 2014 --(
PR.com
)-- Local Realtor, Chris Upham, announces the first ever "Great Home Giveaway" where home buyers can win up to $100,000 toward the down payment on their next home! Watch the
Video Announcement
Chris Upham, and the entire team at The Upham Real Estate Group, is joining hundreds of real estate agents across the company who have invested in "The Great Home Giveaway" sweepstakes that will allow the people of Alexandria, VA and the Washington, DC Metro Area to enter for a chance to win a $100,000 grand prize and one of sixteen $10,000 prizes to be used for the down payment on the purchase of their next home.
To win, home seekers must simply register at
www.DCMetroGreatHomeGiveaway.com
and get Pre-Approved for their loan with one of The Upham Group's preferred mortgage lenders.
The contest officially kicks off June 11th, 2014 and runs through January 31st, 2015. The $10,000 prizes will be awarded every two weeks through the end of the year. The $100,0000 Grand Prize winner will be announced January 2015.
Anyone who enters the contest will be eligible to win one of the 17 total prizes available throughout the year. The earlier you enter, the more opportunities you have to win.
This is the first time local realtors have ever joined forces in order to give away such a substantial amount.
Chris Upham and The Upham Real Estate Group is based in Alexandria, Virginia and serves the greater Washington, DC Metro Area. Chris and his team wanted to participate in the Great Home Giveaway contest because, "we simply wanted to give home buyers in today's economy, an opportunity to get some real financial help with their down payment money to purchase a home. For us, we just see it as a way to give back to our community."
The contest is being sponsored by The Upham Real Estate Group, Commissions Inc., First Option Mortgage, OVM Financial and First Savings Mortgage.
If you have more questions or would like more information about The Great Home Giveaway, please contact Chris Upham with The Upham Group at KW Capital Properties at (703) 266-4000 or email at info@uphamrealestate.com
No Purchase Necessary. A Purchase Will Not Increase Your Chances Of Winning. Legal Residents Of The 50 United States (D.C.) 21 Years And Older. Void Where Prohibited. Sweepstakes ends 1/31/15. For Official Rules, prize descriptions and odds disclosure, how to enter without pre-qualifying for a mortgage, visit www.TheGreatHomeGiveaway.com. Sponsors: Commissions Inc. 1351 Dividend Drive, Suite K, Marietta, Georgia 3006; First Option Mortgage, LLC400 Interstate N. Parkway SE, Suite 1600, Atlanta, GA 30339