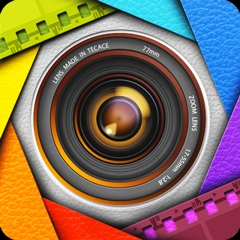 Bellevue, WA, November 06, 2014 --(
PR.com
)-- CameraAce today announces the launch of their latest update, CameraAce Version 4.0 with its new Slideshow Management feature as a premium subscription. While free users can access the slideshow manager and use default features such as delete slideshows, premium users can fully access instantly toggle sharing, re-share or delete up to 100 shared slideshows made with CameraAce.
CameraAce began as a new and ambitious take on the mobile photography paradigm, focusing on photo management and organization. Frequent revisions based on user feedback resulted in the popular slideshow editor and later, shareable slideshows. After hitting the 1 million-download milestone in June of 2014, CameraAce began work on its most frequently requested feature - slideshow management.
Premium Subscribers can now review up to 100 of their slideshow compositions (up to 10 with a free plan) for only $2.99 a month. In addition to viewing each slideshow, users can turn sharing on and off for each slideshow, re-share its link, or delete the slideshow directly from their device. In addition, premium subscribers unlock access to all filters and frames. And they can check how many the slideshows are viewed by your friends.
The features were suggested and selected by user survey so that feedback for Slideshow Management has been very positive and is emblematic of CameraAce's responsive development ideals. The emphasis on user comments and feedback has shaped the development and evolution of CameraAce, which now powers the photographic creativity of over 30,000 users a day.
The
CameraAce photography suite
is a functional and imaginative take on mobile photography that specializes in organizing a user's photos as they are taken. In addition to slideshows, users can create preset themes, which automatically apply predefined filters and frames to photos as they are taken and organizes them into appropriate categories. These collections of organized photos can then be turned into a slideshow and shared with friends and family with just a few touches.
CameraAce's growth is not viral, artificial or fleeting. Through constant user feedback and developer augmentation, CameraAce has evolved into an app that users sincerely enjoy using - the slideshow-sharing and management features in particular embody this progression. CameraAce is a truly user-driven experience in that user content powers the app, and user needs will continue to drive the future of the app experience.
About TecAce Software, Ltd. - TecAce is a leading smartphone solutions provider on the Windows Phone, iOS, Android, and Tizen platforms. TecAce's global offices are located in the USA, Korea and Canada. TecAce has delivered their mobile expertise to numerous top class telecommunication carriers, silicon vendors and device manufacturers to create Android Devices, Windows Phones, Tablet Devices and all kinds of mobile devices & embedded systems throughout the world since 2000. TecAce specializes in adding creative and innovative UIs/UXs to their applications in order to give users products that are both fun and convenient.