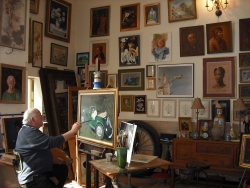 Glen Lyon, PA, June 24, 2014 --(
PR.com
)-- In 2008, the idea of Ken Marquis, a PA based picture framer, became one of the largest non-profit international art efforts, The Landfillart Project. Now Marquis' new mission is to transform the forgotten hamlet of Glen Lyon, Pennsylvania into a thriving artist community.
Just two hours from Manhattan and Philadelphia, Marquis is advancing this art collective in a big way by offering artists in high cost of living areas, like Philadelphia and New York City, subsidized living and work space.
For more information about this artist community, contact Ken Marquis: 570-823-0518 or kmarquis@epix.net.
For many decades, Glen Lyon in Northeastern Pennsylvania was a quiet, some say sleeping shell of its former self. Once a thriving and quaint coal community – the classic book, "Miracle of the Bells" was based on this community and the major 1948 movie, "The Miracle of the Bells," was in part filmed there. Glen Lyon industry departed when King Coal was dethroned and for over 50 years the community has languished.
Many feel the charm has never left Glen Lyon. There is only one road into Glen Lyon and one Main Street – making this a quiet community nestled between forest, hills and major cliff outcroppings.
There appears to be a new miracle afoot. In 2013 Ken Marquis acquired long-closed store-fronts, warehouses, apartments and homes and is transforming this space into subsidized artist housing and work space. Once, Glen Lyon's coal helped fuel homes and industry throughout the eastern United States. Now, argues Marquis, Glen Lyon will fuel artists' creative enterprises.
Enter a striking pillared 100 year old bank on Main Street and you'll see why artists seem to favor this community. Inside this bank is a thriving living workshop of painters creating world-class paintings, sketches and murals in a workshop setting lined with art covering every square inch of its 25 foot high bank ceilings. The bank is owned by world renowned billiard table craftsman, Harry Grozio, II.
"I have been around artists all my professional life as an art gallery owner and art framer," says Marquis. Why should an artist struggle just to pay 700 dollars a month to park their car in Manhattan? As my friend Harry Grozio II has shown, Glen Lyon is a quintessential community for an artist and their family to create and thrive."