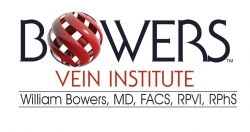 St. Petersburg, FL, June 24, 2014 --(
PR.com
)-- Dr. William D. Bowers of Bowers Vein Institute in Pinellas Park near Tampa, Florida, (
http://www.bowersvein.com
), was awarded an exclusive, ten-year certification from the American Board of Venous & Lymphatic Medicine (ABVLM). Upon receipt of this certification, Dr. Bowers has become one of only 624 practitioners awarded this distinction in North America. According to ABVLM, less than 1% of all vein care professionals in the U.S. and Canada have earned certification from ABVLM. The ABVLM stated, "Certification is a direct reflection of Dr. Bowers' skill, knowledge, and experience in providing quality patient care, and his continued commitment to the advancement of vein care." Vein Specialist William Bowers, MD, FACS, RPVI, RPhS is the Founder and Medical Director of Bowers Vein Institute with over 25 years' experience. He holds numerous certifications and distinctions associated with his field of medical practice.
The Bowers Vein Institute is a cutting edge, state-of-the-art center that provides comprehensive care for patients with RLS (Restless Leg Syndrome), varicose veins, spider veins, reticular veins and other venous diseases. The facility offers the latest in minimally invasive procedures that effectively treat veins without the need for traditional surgery. These treatment programs may include conservative treatment techniques like compression stockings, or minimally invasive procedures such as Endovenous Laser Ablation (EVLA), Sclerotherapy, or Ambulatory Phlebectomy, all performed in the office under local anesthesia. The staff at Bowers Vein Institute also offers treatments for restless legs syndrome (RLS), dry itchy legs, ankle and leg discoloration and venous ulcerations.
With great pride and enthusiasm the ABVLM (formerly known as The American Board of Phlebology, or ABPh) announced the completion of their sixth phlebology exam cycle utilizing the PearsonVue® testing centers.
To become an ABVLM diploma recipient, an applicant must complete the requisite training and experience qualifications, meet the continuing medical education requisites and pass a stringent certification examination. Certification periods last ten years, and maintenance is dependent on the ability of the diplomate to display competency in four areas of assessment: evidence of professional standing, evidence of commitment to lifelong-learning and periodic self-assessment, evidence of cognitive expertise and evaluation of performance in practice.
The ABVLM (www.ABVLM.org) is an independent, non-profit organization founded in 2007 (as the ABPh) for the purpose of certifying physicians who have met a defined standard of education, training and knowledge in the field of venous and lymphatic medicine. For more information, visit www.abvlm.org.
About Bowers Vein Institute
Bowers Vein Institute, based out of St. Petersburg, Florida, also provides vein treatment to Tampa Bay, Pinellas Park, Clearwater and Largo. They provide Medicare Coverage for Varicose Veins Treatment and Laser Vein Removal, and accept many other insurance plans. For more information visit http://www.bowersvein.com. Schedule your free consultation with Dr. William D. Bowers MD of Bowers Vein Institute at 727-623-9999.