A New Reve Reserve Wine Release is Coming to Provincial Vineyards and the New Pinot Noir is Making Some People Very Excited...
Provincial Vineyards is introducing a new wine release of their 2012 Reve Reserve Pinot Noir produced by using only single estate grown grapes. The wine-tasting event will be hosted by winemakers who will discuss exactly how this estate grown pinot made it to reserve status. Wine enthusiasts will love this new release of a favorite premium wine plus a chance to get acquainted with local winemakers.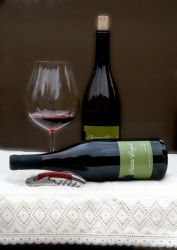 Forest Grove, OR, June 26, 2014 --(
PR.com
)-- Provincial Vineyards, www(dot)provincialvineyards(dot)com, will debut a special release of a brand new Rêve Reserve Pinot Noir… This premium wine is scheduled to be presented on July 12, 2014 from 12pm-6pm. Provincial Vineyards is located at 14373 NW Timmerman Road, Forest Grove, Oregon, 97116. Take Highway 26 to Highway 6 on your way to the Northern Oregon Coast.
"This is my dream Pinot -- the one I have been working towards for a long, long time." – Neil Frederickson, Provincial Vineyards, Viticulturist, Owner and member of the North Willamette Vintners Organization. Neil and other winemakers will be discussing how this blend of Pinot Noir made it to reserve status. This Rêve Reserve wine was created from estate grown pinot grapes. This wine-tasting event will showcase live music and appetizers specially selected to accompany a fine reserve wine. Here are a few points of interest about Pinot Noir… Pinot noir is:
· Aged in oak barrels and the most popular way for aging premium wines
· The most expensive wine in the world produced with oak-aging
· Has a medium low tannin and medium high acidity
· Light enough for salmon yet complex enough for richer meat such as duck
A Rêve Reserve status is only granted to wines that meet special requirements. Estate grown grapes produce wines that are among the best in the industry. Only a limited quantity of cases will be available of this delicious wine at the event.
Enjoy a chance to experience a fine wine with a smooth lingering taste from a charming vineyard in a lovely setting, offering a slow aged and delicate Pinot Noir from an established vintner. This 2012 Reserve Pinot Noir, has been slowly oak-aged for over 16 months using French Oak Barrels for an exceptional smooth yet spicy taste and distinctive characteristics such as a satin or silk texture… This wine is the perfect match for the novice wine enthusiast or a wine connoisseur with a sophisticated palate for a finer wine… This is an event worth attending. Visit for a chance to meet and talk directly with winemakers. After the wine tasting event, please visit our Facebook page or call 503-992-7319.
Why: Join them for a special Rêve Wine Release event. Enjoy music, appetizers, wine tasting and a chance to get acquainted with winemakers.
When: Saturday, July 12, 2014 from 12pm – 6pm
Where: Provincial Vineyards, 14373 NW Timmerman Rd., Forest Grove, Oregon 97116
Cost: Free Wine-Tasting Event
Contact: Cassandra Smit, cassandra(at)provincialvineyards(dot)com 503-992-7319
About Provincial Vineyards:
Provincial Vineyards is located on a 10-acre vineyard site nestled in the most beautiful part of wine country at the NW edge of the Willamette Valley in Forest Grove, Or. The Vineyard harvests a premier N Willamette Valley fine wine. Their mission is to produce a small quantity of the finest wines in the Willamette Valley using only minimal wine-making amendments. Founded in 2004 by Neil Frederickson, Viticulturist, the boutique winery is currently in production with 3.5 acres. Neil was successful in winning the 2012 Pinot Gris Bronze, awarded by the accredited San Francisco Chronicle Wine Competition.
For more information on Provincial Vineyards please visit www(dot)provincialvineyards(dot)com or call 503-992-7319.
Contact
Creative Copy Consultant
Raquel Schuh, Publicist
971-263-1351

Contact