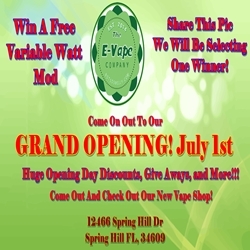 Spring Hill, FL, June 25, 2014 --(
PR.com
)-- The E Vape Company Inc. brings to the public their first retail store in Spring Hill FL offering
Electronic Cigarettes
products, accessories and choice E liquids that can be mixed to taste.
Electronic Cigarettes
have been used successfully by many as an alternative to traditional tobacco smoking.
Doors open on Tuesday, July 1, 2014 at 10 am. The store is located at 12466 Spring Hill Dr. The E Vape Company goal is to provide high quality electronic cigarettes and
E Liquids
so as to give their customers the ultimate vaping experiences.
Electronic cigarettes provide the user the sensation of smoking without the smoke. The vapors are not at all offensive as they are merely water vapor with no toxic second hand smoke and the device can be used virtually anywhere.
The way that the electronic cigarette works is by heating a
E Liquid
of flavorings called E Liquid or E Juice and nicotine to produce a satisfying vapor that replaces the unhealthy smoking habit.
Unlike traditional tobacco products which contain over 400 known toxic and carcinogenic chemicals the E Liquids The E Vape Company offers carry only 4 to 5 ingredients. Propylene Glycol known as (PG) and Vegetable Glycerin (VG) are the main ingredients; Flavor is added to enhance the taste of the vapor and then the desired Nicotine Level if any. The customer can choose what level of nicotine that they'd like in their solution so that even the heaviest smoker is satisfied with the switch to vaping. People transitioning from traditional cigarettes will usually start at a medium to high nicotine level in their liquids and then eventually graduate down to zero.
This will be the first vapor taste bar in the area that allows the customers to custom mix and select their own flavors. There are 35 flavors to choose from to make possible over 20,000 uniquely personal combinations. E Vape Company is also the first local
vape shop
in the area to stock a 100% fully organic line of liquids!
All of the ingredients in E Vape Company's liquids are manufactured in an FDA registered lab using only ISO certified and Kosher ingredients. They will carry only the finest
Electronic Cigarettes
products and hardware as well and they are the suppliers and manufacturers of all of their E Liquids and even some of their hardware products.
If you are local to Spring Hill, FL and curious be sure to make it by their store! To those who are already enjoying your vaping experience – the seemingly limitless flavor options at The E Vape Company should really enhance your experience! And to those who are still smoking cigarettes – come over and try our flavors and as the company puts it, "Ditch The Stink"!
Hours of operation are M-F 10-7 pm, Saturday 10-7 pm, and Sunday 11-6 pm.