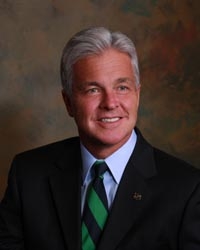 Denver, CO, June 26, 2014 --(
PR.com
)-- Denver District Attorney Mitch Morrissey is Keynote Speaker at 16th Annual Senior Law Day on July 19
Denver District Attorney Mitch Morrissey is the keynote speaker for this year's 16th Annual Denver Senior Law Day. As the chief prosecutor in Denver, he is responsible for the prosecution of more than 6,000 felony and 18,000 misdemeanor criminal cases every year, and is a staunch advocate for fraud prevention and education in the Denver community.
With incredible resources and educational workshops, this event is not only for seniors in the community, but also valuable for adult children and caregivers who are helping aging parents, relatives, or friends. The event is from 8:00 a.m. to 1:20 p.m. on Saturday, July 19 at the Denver Mart.
The 16th Annual Senior Law Day offers the public the opportunity to hear from experienced elder law attorneys and other professionals involved in elder care issues. This year there are thirty-three unique, informative workshops to choose from that will help seniors learn how to better manage family and financial issues and prepare for retirement.
Workshops this year include "How Hospice and Palliative Care Can Save Your Life," "Aging in Place – Maintaining Your Independence at Home," " Assisted Living and Nursing Home Issues," " Estate Planning: Wills, Trusts & Your Property," " Hanging Up the Car Keys for Good," " Living Wills, Advance Medical Directives, DNR Orders, Proxies, and End of Life Issues," "Medicaid and Medicare 101," " Planning For Your Pets," "Powers of Attorney and Guardianship & Conservatorship," " Social Security," "To Marry or Not to Marry—That is the Question," " VA Benefits," and " What to do When Someone Dies."
Attendee are also available to meet with an attorney at the "Ask-A-Lawyer" Session, a free 15-minute meeting with an attorney to ask about Elder Law and Trust and Estate issues. For more information on this and a full list of workshops go to
http://www.seniorlawday.org/denver
.
Much of the content presented at Denver Senior Law Day also can be found in the comprehensive 2014 Senior Law Handbook, which is distributed free at the event. The Senior Law Handbook is supported through the generous contributions from organizations and law firms including Rose Community Foundation—an organization that supports efforts to improve the quality of life throughout the Greater Denver community through its endowed grantmaking programs, and by advising and assisting donors who wish to make thoughtful charitable investments to better the community.
A $10 contribution is suggested but not required to attend the event. Registration is requested; call (303) 860-0608 or dial toll-free (888) 860-2531 or go online to register at
www.seniorlawday.org
and click on the "Denver" tab. Business vendors and potential exhibitors should contact Sherrill Wolf at (303) 860-0608.
Full details on the event are available at
www.seniorlawday.org/denver