"Obstacle Race World: The State of the Mud Run Business" Details the Size and Reach of the OCR Market as the Sport's First-Ever Industry Report
"Obstacle Race World: The State of the Mud Run Business" is the first industry report on obstacle course races and challenges! This publication examines the rapid growth of mud runs, providing a context with its brief history and roots in other popular sports and activities. Also included are estimates and projections on the market size (industry revenue), number of participants, and market share.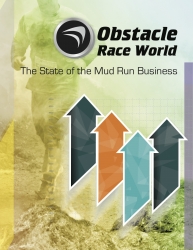 Boston, MA, June 30, 2014 --(
PR.com
)-- Today, Obstacle Race World announced the recent release of "Obstacle Race World: The State of the Mud Run Business." The report provides an overview of the history, growth, and outlook of obstacle course races (OCRs). Participation and market size estimates are also included.
According to Obstacle Race World, nearly 3.4 million participated in an obstacle course race in 2013 as revenue from registrations totaled $290.1 million. The number of participants is expected to exceed four million in 2014. While more than a hundred companies develop obstacle races, 70% of the industry's market share is claimed by the top organizers.
"In only a few years, obstacle racing has succeeded in attracting participants of all fitness levels," says Melissa Rodriguez, author of the report. "Leading organizers are helping address inactivity and obesity rates by providing a fun, adventurous, and social outlet for physical activity. The future of the mud run business looks bright."
Obstacle course races are on pace to generate nearly $362 million in registration revenue in 2014. While participation rates may slow down through 2016, a growing number of individuals are expected to sign up and take part in an obstacle race or similar challenge in upcoming years. As the report bears out, along with other key drivers, the variety of events hosted in convenient locations will continue to attract new and returning participants.
"Obstacle Race World: The State of the Mud Run Business" covers the following topics:
*OCR Snapshot: an overview of revenue and participation estimates from 2010-2016.
*About the Leaders: a snapshot of the top players, including interviews with each.
*On the Horizon: a summary of obstacle course races to watch in upcoming years.
*A History of OCRs: an examination of the sports' emergence as a standalone sport.
*State of Obstacle Course Races & Challenges: an in-depth analysis of how the OCR business emerged and developed, from its roots to today.
*OCR Models: an exploration of the common types of events and races within the OCR business.
*OCR Outlook: a forecast with drivers, challenges, and opportunities for growth.
"Obstacle Race World is a must-read for any OCR enthusiast," says Andreas Dietzel, founder of the Viking Race, Norway's biggest obstacle course race. "OCR organizers, die-hard racers, sponsors, and other fans and followers will see how far this sport has come in such a short time as well as the opportunities ahead. They'll also get a glimpse of the guts and smarts it took for leaders to cultivate a new niche within the competitive fitness industry."
"
Obstacle Race World: The State of the Mud Run Business
" is available in PDF format for $99 at obstacleraceworld.com. A free preview of the report is also available through the site. Questions and inquiries can be sent to info@obstacleraceworld.com.
About The Author
Melissa Rodriguez is a personal trainer, strength and conditioning specialist, and fitness market research analyst. She is an 11-year certified fitness professional and 6-year industry research analyst. Rodriguez also holds undergraduate degrees in English and biology. She received an M.BA. in financial management from La Sierra University in Riverside, California. In addition to following all things obstacle racing, Rodriguez also maintains MyExerciseCoach.net, a blog that provides training tips and fitness guides for beginners. She is also a contributor to "Mud & Obstacle magazine." Her e-book, "12 Weeks. 22 Workouts. Your First Obstacle Race: A Beginner's Training Manual," provides a training roadmap for novices preparing for their first mud run.
Contact
Obstacle Race World
Melissa Rodriguez
617-807-0223
www.obstacleraceworld.com

Contact