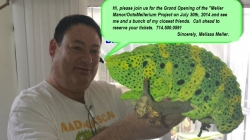 Fountain Valley, CA, June 29, 2014 --(
PR.com
)-- Anyone who has enjoyed the long running television series Meerkat Manor on the Animal Planet will love the new exhibit called "Meller Manor, the OctoMellerium" which will be on permanent display at Prehistoric Pets in Fountain Valley California premiering on Wednesday, July 30th, 2014.
The exhibit will feature between eight and ten giant Meller's Chameleons living together and interacting in a large free ranging environment inside The Reptile Zoo at Prehistoric Pets. Click here for photographs of what these gentle giants look like:
Meller's Chameleon Images
.
Brian Allen, President of Exhibit Adventures, the Originator and Sponsor of the exhibit said in a recent interview that: "Meller's Chameleons are from Tanzania and Malawi in Central Africa and while not immediately endangered they are threatened by habitat destruction as are most chameleons around the world. One of the objectives of the 'Meller Manor/OctoMellerium Project' is to bring together different genetic strains of this Meller's species and produce a strong breeding population in the United States."
Laura and Jay Brewer, the daughter and father Owner Team at the Prehistoric Pets Reptile Zoo are excited by the project. Laura recently commented about the project. "The Meller Manor/OctoMellerium Project is just the sort of thing that the press, schools, parents, teachers and the scientific community can all stand behind and support. This will be the largest exhibit of its kind in the world and we are proud to provide a permanent home for it at Prehistoric Pets."
The Meller's Chameleon's have arrived in California safely thanks to BackwaterReptiles.com who imported them specifically for this project. A video of their arrival can be seen at
https://www.youtube.com/watch?v=K2aNLkWazX8
.
The Meller Manor/OctoMellerium Project Opens on Laura Brewer's Birthday on July 20th, 2014 at 1:00 p.m. PST. Presale tickets for the Grand Opening are available by calling (714) 500-0591 and asking for Laura Brewer. Discounted tickets for schools and other groups are available by booking in advance.