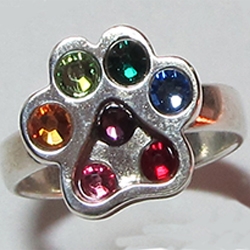 Mayfield Heights, OH, July 03, 2014 --(
PR.com
)-- Puppy Paws Inc. - paw-shaped jewelry for people who love animals - is pleased to introduce the Mother's Paw® Ring and the Memory Paw® Ring.
Both the Mother's Paw® and the Memory Paw® measure approximately 5/8" x 5/8" x 3/16" (close to the size of a penny in circumference). The ring itself is available in sizes 3 to 15.
The Mother's Paw® can hold up to 12 Swarovski™ birthstone crystals.
People may return their Mother's Paw® when a new pet enters the household so a new birthstone crystal in order to keep their paw "current."
For rescue pets people should use the day the pet is brought home as a new birthday because they are 're-born' and have a whole new life once they go home with their forever family.
Memory Paws® hold a tiny bit of your pet's cremains (ashes) that are sealed in place with a clear, permanent resin.
Prices for a sterling silver Mother's Paw® Ring are $75.00 plus $5.00 per crystal while the Memory Paw® Ring is $130.00 for sterling silver and $395.00 for 14k yellow or white gold. Both pieces are also available in platinum.
Both the Mother's Paw® and the Memory Paw® are also available as pendants, cufflinks, tie bars, tie tacs, lapel pins and Pandora®-like charms for bracelets.
The Puppy Paws® collection includes bracelets, charms, cufflinks, earrings, rings and tuxedo studs. Pewter holiday ornament, wine stoppers and other gifts items are also available.
Wholesale and commission packages are available for interested retailers.
Puppy Paws, Inc. is a Cleveland Ohio-based designer of jewelry for animal lovers. Puppy Paws® are "uni-species" paw-shaped jewelry that feature a simple sterling silver or 14k paw with the birthstone(s)of your pet. Puppy Paws®, Mother's Paws®, Memory Paws® and Memory Lockets are available online at www.puppypaws.com, and in select jewelry stores and pet boutiques throughout the United States and Canada.