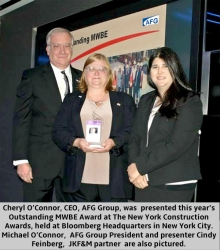 New York, NY, July 08, 2014 --(
PR.com
)-- AFG Group won the 2014 Outstanding MWBE Award at The New York Construction Awards, an event recognizing fast-growing and innovative construction, design, and development firms. The awards are presented in cooperation with the New York Building Congress (NYBC), the American Council of Engineering Companies of New York (ACEC-NY), and the American Institute of Architects New York Chapter (AIA-NY).
AFG's award was based upon the company's demonstrated accelerated growth and business expansion. Cheryl O'Connor, CEO, AFG Group, said, "We are excited and honored for being recognized as an Outstanding Woman-Owned firm in the New York construction industry. AFG is fully committed to delivering exceptional service to the agencies and residents of New York and beyond and it is an extreme honor to be recognized by industry peers for that commitment and our success."
Anchin, Block & Anchin LLP hosted the award ceremony, held at Bloomberg Headquarters in New York City and judged by an illustrious panel of industry executives. The event featured keynote speaker, Paul Williams, President, Dormitory Authority State of New York (DASNY).
AFG proved its ability to operate in an extremely competitive environment while fulfilling significant emergent requirements. Within 24 hours of receiving notification by NYC Housing Authority (NYCHA), AFG quickly engaged in Hurricane Sandy recovery efforts while continuing to fully support the firm's many other major projects. AFG sustained disaster relief through providing construction management services to the NYC Mayor's Office as part of the NYC Rapid Repair Program.
With major offices in New York City and Washington DC, AFG has expanded to more than 20 project offices in 14 states since its inception 25 years ago. In 2013, AFG's overall revenues grew 17%, with New York City based revenues reaching $3.5M, a more than 50% increase over the previous year. The company's New York clients include: NYC Department of Design and Construction (DDC), NYC Department of Citywide Administrative Services (DCAS), NYC Department of Housing Preservation (DHP), NYCHA, and DASNY.
About AFG Group, Inc.
AFG Group, Inc. is a woman-owned, multi-disciplined program, construction, and relocation management firm with a national portfolio of work in healthcare, laboratories, and courthouses, governmental and educational facilities. With 25 years in business, AFG Group has earned a reputation for providing strong expertise, responsiveness, and project execution that helps owners navigate through complex design, procurement, construction, and activation processes. Visit www.afgcm.com for additional information.