Pillsbury Wine Co Builds New Winery Facility in Arizona
New Zealand film director Sam Pillsbury constructs new wine production facility at his vineyard in Willcox, AZ.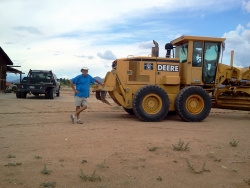 Phoenix, AZ, July 10, 2014 --(
PR.com
)--
Pillsbury Wine Company
announces it has secured financing to establish its own winery facility on the 100-acre vineyard property, 13 miles south of Willcox. Construction is commencing this week for use in time for harvest.
Passionately committed to producing 100 percent local wines from the first vine plantings in 2000 on the famed Willcox Bench, owner and grower Sam Pillsbury has made wines solely from grapes from his own organic vines or those of nearby neighbors in Cochise County ever since.
"There's enough generic food and wine in the world already," Pillsbury said. "I have been committed from the start to make a wine that rigorously and honestly reflects the characteristics of the region we are from."
Pouring all his personal resources into establishing the vineyard so he could actually source locally, Pillsbury, until now, has been making wines under custom crush contracts with local wineries.
"This new facility will give us the opportunity to complete the circle, and actually make and age the wine right here where the grapes are grown," Pillsbury said. "It will give us the ability to press our grapes within moments of harvest, and allows us to optimize quality—the kind of control most small boutique operations can only dream of."
In keeping grassroots, Pillsbury Wine Co. wines are marketed and distributed by the company itself. All employees are involved in the growing, harvesting, processing, blending, and bottling. Pillsbury feels this is integral to assuring consumers that his wines are personal, local, and authentic, wherever they are purchased.
Pillsbury Wine Co. grows its own organic fruits and vegetables, eggs, poultry, sheep, and goats, which it can supply to select restaurants. Future plans include farming lavender and tilapia fish and building a pizza oven.
"One day, people will be able to come to our land and eat and drink everything entirely produced from our property. It will be the ultimate locavore experience," Pillsbury concluded.
New Zealand Film Director Sam Pillsbury gambled that the high-altitude, endless sunshine, sandy loam, and dry desert would make for a perfect terroir. In 2000, he planted 20 acres of Rhone varieties at 4300 feet in Cochise County. He now grows Syrah, Mourvedre, Grenache, Petite Sirah, Viognier, Malvasia, Chardonnay, Pinot Grigio, Symphony, Roussanne, and Chenin Blanc in his vineyard and produces more than 2,500 cases annually.
Contact
Pillsbury Wine Company
Sam Pillsbury
310-508-3348
www.pillsburywine.com

Contact