Local Pet Safety Duo Chiapuzio & Fleck Achieve Finalist Status as Pet Industry Woman of the Year
Women in the Pet Industry Network (WIPIN) Recognizes two Extraordinary Southern California Women from the Same Organization!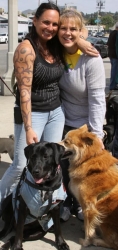 Los Angeles, CA, July 17, 2014 --(
PR.com
)-- Denise Fleck based in Burbank and Debra Jo Chiapuzio of Anaheim have both been named finalists in the annual Pet Industry Woman of the Year Award competition. Fleck was nominated in the Solopreneur category for her pet safety business Sunny-dog Ink while Chiapuzio was nominated in the Advocate Category. The two are the only duo from one organization to be nominated for this prestigious award. Chiapuzio is the President of the Emma Zen Foundation, a non-profit organization that provides pet oxygen masks to first responders nationwide while Fleck serves on the Board of EZF and headlines its Team First Aid and Team Teach. Both women, along with 23 others from coast to coast, will move on to compete within their respective categories and, finally…for the 2014 Pet Industry Woman of the Year Award. Winners will be announced August 15th at the Women in the Pet Industry Conference & Awards Show in Portland, Oregon.
Five finalists were named in each category -- Solopreneur, Entrepreneur, Corporation, Advocate and Rising Star -- before one overall Pet Industry Woman of the Year will be chosen from the finalists. A panel of four independent judges reviewed and scored nominations for more than 50 nominations in the five categories. This year's judges include a serial entrepreneur who is also a corporate CEO, an IT professional with a major broadcast company, a former owner of two vocational schools and the founder/owner of two 30 year-old businesses.
Debra Jo Chiapuzio saw a pet oxygen mask at a pet first aid presentation given by Fleck and didn't know they existed. "When I found out that there are specifically shaped masks for pets and that fire departments didn't carry them, well that just wouldn't do," she thought and set out to establish them in her own community. After jumping through hoops to get it accomplished, she created the Emma Zen Foundation (its name sake is Chiapuzio's Labrador/Great Dane) and has now established 2,500 pet oxygen masks on Fire Engines across the U.S. Dog is Good, another WIPIN member, sponsors EZF. Learn more at www.emmazen.com.
Denise Fleck is an Instructor and award-winning Author who has appeared on Animal Planet and other shows (Pit Boss, Kirstie Alley's Big Life and CBS-TV's The Doctors to name a few) where she has shared g animal life-saving tips. Her debut story book, Don't Judge a Book by its Cover, won the Dog Writers of America's "Children's Book of the Year" in early 2014, but she has also penned a series of animal care books by Quickfind, Rescue Critter's Pet First Aid for Kids and has 3 more books hitting shelves before 2015. "I feel privileged to be on the Board of the Emma Zen Foundation, which supplies pet oxygen masks to first responders nationwide. From our first encounter, Debra Jo and I hit it off and I am thrilled to be helping animals alongside her," Fleck shares. Denise Fleck is an also avid rescue volunteer who received the Volunteer of the Year Award from the Burbank Police Department for her work at its Animal Shelter. In addition to developing her own curriculum for a 5-hour Pet First-Aid & CPR Class, Fleck created and teaches a high school course in Animal Care through the Burbank Unified School District.
She is owned by two rescued Japanese Akitas. Learn more at www.sunnydogink.com.
"The Pet Industry Women of the Year Awards were designed to recognize the amazing females who dedicate their time and talents to improving the lives of all pets – dogs, cats, birds, fish, horses and exotics – and their parents/guardians," said Shawna Schuh, president of WIPIN. "The Awards are a celebration of women who have devoted their lives to the pet industry and shine as beacons of women helping women and pets with passion. Fleck & Chiapuzio are perfect examples! It is exciting to honor them and other women of such high caliber."
About Women in the Pet Industry Network (WIPIN)
Acquired in 2012 by Shawna Schuh, the current President and Chief Pet Wrangler, WIPIN is headquartered near Portland, Oregon and serves a worldwide membership base of women in all sectors of the pet industry. WIPIN helps entrepreneurial women grow their pet-focused businesses through unique networking opportunities, valuable business growth options and online resources.
The All About Growth Conference & Awards Show in August will bring women together to connect, network, and learn how to grow their pet-focused businesses. WIPIN is affiliated with Pet Age Magazine, Black Dog Education and PETPR.com. With 430 members, and growing daily, WIPIN is the premier networking organization for women in the pet industry, offering its members the opportunity to connect, share and learn from other like-minded professionals. Members share three core philosophies: Give first, grow continuously and connect for reasons that matter. For more information, visit www.womeninthepetindustry.com or contact Schuh at 503-970-5774; shawna@womeninthepetindustry.com.
Contact
Sunny-dog Ink
Denise Fleck
818-951-7962
www.sunnydogink.com
Debra Jo Chiapuzio 714-742-8895

Contact