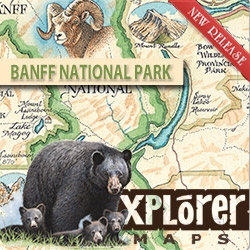 Banff, Canada, July 18, 2014 --(
PR.com
)-- Xplorer Maps, founded in Missoula, MT in 2010, has released their most recent hand-drawn, hand-lettered fine art map; "Banff National Park."
With his signature antique, old-world style intended to pay homage to the early cartographers, Canadian artist Chris Robitaille and Xplorer Maps have highlighted the fauna, flora, unique geology and iconic landscapes of the greater Banff region including features of Kootenay and Yoho National Parks.
Every line, letter and icon in this illustration is custom and entirely rendered by hand; absolutely unique and original. With uncompromising attention to detail, exquisite world-class artistry and accurate historical reflection, Xplorer Maps is proud to include "Banff National Park" into their ever-growing map collection of National Parks and significant destinations worldwide.
Xplorer Maps connects art, community and conservation one map at a time by using these one-of-a-kind, hand-drawn and hand-lettered illustrated maps to effectively "tell the story." Ultimately, our goal is help protect and preserve the special places that provide the source for our inspirations and hopefully we succeed in making memorable connections between people and place well beyond your visit.
The illustrated Banff National Park map is now available at selected retail locations, lodges, resorts, and Visitor Centers in Radium Hot Springs, Canmore, Golden, Banff, Lake Louise, Calgary and other outlying communities. Prints can also be purchased online at:
www.xplorermaps.com.
And please note, a portion of all map sales is being donated directly back to organizations that are dedicated to the conservation and preservation of this magnificent national treasure.