Ecommerce Company Cocoweb Announces New Line of Modern Ceiling Fans
Cocoweb Living expands its premium lighting product line with innovative ceiling fans.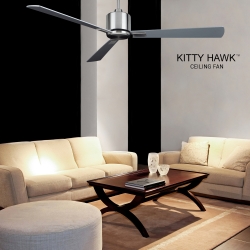 Irvine, CA, July 21, 2014 --(
PR.com
)-- Ecommerce market as a provider of high quality picture lights and piano lamps. They have truly proven themselves as a top competitor in the market because of the impeccability of their product as well as their top notch customer service. Unlike many Ecommerce companies, Cocoweb takes time to personally talk to their customers and is consistently available, no matter what. This sets their service apart from other Ecommerce companies because there is a direct connection between knowledgeable employees and customers. Cocoweb is branching into the business of a modern fan company and has now decided to take this philosophy of high quality products and customer service into a more diversified market. They are proud to present a line of modern and innovative ceiling fans that will rank amongst top ceiling fan providers such as Hunter Ceiling Fans and Hampton Bay Ceiling Fans.
One of the favorites and most anticipated fan is the Kitty Hawk Ceiling Fan. The Kitty Hawk will be a favorite amongst minimalists for its functionality and sleek design. It has three blades rather than the standard five and comes in an antique brass and brushed nickel finish as well as various wood finish options for the blades. Along with many other Cocoweb Living ceiling fans, the Kitty Hawk will offer a DC motor. In addition to running silently, DC motors allow their ceiling fans to use only 23-25W of energy, whereas many central air conditioning can use as much as 3500W of energy. That means Cocoweb Living's fans use .7% energy of the average central air conditioning unit. Many of their fans are also equipped with patented Whisperwillow technology, which keeps their fans running silent. They do offer some varieties of fans in AC Motors, but even these varieties only use up to 75W of energy. Cocoweb Living's ceiling fans range in price from $178.00 to $301.00, so they're perfect for any budget.
Cocoweb Living will also offer a variety of traditional style ceiling fans as well as ceiling fans with lights, modern ceiling fans, and contemporary ceiling fans with lights. These fans are sure to appeal to a variety of styles and designs and will also appeal to those sticking to a design budget.
About Cocoweb: Cocoweb is an Ecommerce company that is broadening its range in products. We started out as a lighting company, and have now moved into the realm of electronics and sports. We are moving in the direction of an Ecommerce Marketplace and will continue to grow. Our roots lie in interior design and high quality lighting, so no matter where we branch out, we will always carry the utmost interest in high quality and well-designed products.
Contact
Cocoweb
David Yu
1-888-783-0378
www.cocoweb.com
ext. 368

Contact