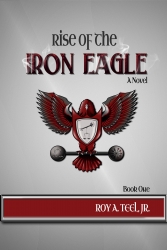 Lake Arrowhead, CA, August 04, 2014 --(
PR.com
)-- In the past several months, a minority of the populace has cried foul and defended the rights of the condemned, rights they say belong to convicted killers sentenced to death under the laws of their particular states after being found guilty by a jury of their peers. Two executions, in particular, stand out: the execution of Clayton Lockett by lethal injection in the State of Oklahoma, and the execution of Joseph Wood in Arizona.
Both men were convicted of brutal and sadistic murders, and each man had attorneys and judges poring over the evidence during the entire appeals process. Yet, in the end, both men's sentences were upheld, and both men were executed. But wait: their executions were supposedly "botched," and there is the possibility that they suffered at the hands of the state while it carried out their sentences.
Roy A. Teel Jr. is introducing a new fictional character, 'The Iron Eagle,' in his new Iron Eagle crime novel series. In Teel's novels, the Iron Eagle is avenging the deaths of the victims of brutal and sadistic killers, who have confessed their guilt. With their confessions and overwhelming evidence, the Eagle exacts justice for those that the killers brutally and mercilessly killed, and the killers' deaths are a hundred times more brutal than the manner in which they killed their victims. Justified? Read on.
According to Teel, "In the real life cases of Lockett and Wood, they received far fairer and more sympathetic treatment at the end of their lives than their victims did. There was no appeals process for their victims, other than their pleas for mercy begging their captors to allow them to live. There was no army of lawyers or police out to protect the victims' interest. They were brutally murdered in agonizing and humiliating ways as in the case of Lockett's victims." "Stephanie Neiman, 18, was dropping off her friend Summer Bradshaw at that house, and Lockett and his accomplices tried to take the keys to her new Chevy truck. Neiman, who graduated from high school only two weeks earlier, fought back, and the men covered her mouth with duct tape and beat her. They also covered her 18-year-old friend's mouth with duct tape, and beat and sexually assaulted her. Both were abducted, along with Bornt and his son. Lockett and his accomplices drove the four people they kidnapped west of Ponca City. Lockett asked Neiman if she planned to call the police. She would not say no, and Mathis spent 20 minutes digging a grave over which Lockett shot Neiman twice with a sawed-off 12-gauge shotgun, the three other victims later told authorities." (Jamie Fuller. Excerpted from the Washington Post: http://www.washingtonpost.com/news/post-nation/wp/2014/04/30/why-were-the-two-inmates-in-oklahoma-on-death-row-in-the-first-place)
"This 18-year-old girl not only suffered the depravity of her killer," Teel says. "She was tortured. There was no one to appeal to except her attackers, and what it got her was beaten, raped, tortured, shot, and buried, possibly, still alive." Still, some have called Lockett's execution "torture." Teel's response: "Really? Really?" In the first installment of The Iron Eagle Series, Teel begs to differ. "Ms. Neiman did not have a soft gurney to lie on, medical attention, or medications to calm her in her final moments. No. This young girl, with the promise of a lifetime ahead of her, experienced only brutality and abuse until she was executed by her rapist over a shallow grave. That is the definition of torture, in my opinion."
As for Wood, why was he on death row? According to Bill McGuire and Danielle Genet as released by ABC News: http://abcnews.go.com/US/arizona-execution-takes-hours-prompts-plea-stay/story?id=24687542 "Wood, 55, was convicted of two counts of first-degree murder February 25, 1991, and sentenced to death July 2, 1991.
"Wood was involved in an unstable five-year relationship with his ex-girlfriend, Debbie Dietz, during the time of the crime. On August 7, 1989, Wood walked into the local body shop owned by her family and shot Debbie's 55-year-old father, Gene Dietz, in the chest with a .38 caliber revolver, according to a statement from the AG.
"Wood later located Debbie, and shot her once in the abdomen and once in the chest, killing her as well, the document stated.
"Jeane Brown, sister of Debbie Dietz, said at the press conference that 'it's been a long 25 years. Horrible 25 years. What I saw today, with him being executed, is nothing to the day it happened on August 7th, 1989. This was nothing. I don't believe he was gasping for air, I don't believe he was suffering. Sounded to me as though he was snoring. Finally it has come to a point in his life, where we can put this behind us, and continue to move forward although I still have to live the rest of my life without my sister and my father.'"
"Once again, a brutal murderer who showed no mercy for his victims, short of letting them beg for their lives, was put to death," says Teel. The concepts behind The Iron Eagle crime novel series are simple. The above convictions, drawn out appeals processes and executions of these brutal killers drive this novel series. "'The Iron Eagle,' while a vigilante, carries out in his fiction world what none of us wants to see, hear, or talk about. 'The Eagle' executes his victims with extreme brutality for their crimes and in the same or a similar fashion as they treated their victims. In the end, it is up to the reader to decide if justice has been served in this fifteen book series."
www.amazon.com/Rise-Iron-Eagle-Book-ebook/dp/B00KMHXWSI/ref=sr_1_2_title_0_main