Two QuickTrick™ Alignment Products Entered Into SEMA 2014 New Product Awards
QuickTrick™ Alignment, manufacturers of portable and compact alignment measuring system for cars, trucks and fleets announces new products entered into the SEMA 2014 New Product Awards competition including the new QuickTrick QuickSlide™ and QuickTrick™ Fleetside 4WD.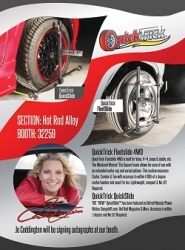 Birmingham, AL, August 02, 2014 --(
PR.com
)-- The new product award competition recognizes outstanding achievements in the development of products being introduced to the specialty automotive aftermarket at the SEMA Show. Award winners are announced on Tuesday, November 4 at the New Products Awards Breakfast, and are also recognized at the annual SEMA Industry Awards Banquet on the evening of Thursday, November 6.
With a QuickTrick™ tool, you can do your own alignment in your shop, in the pits and anywhere on the go, so you save money and aggravation. The system measures caster, camber and toe.
QuickTrick's *New* QuickSlide™ comes in two sizes to cover a range from 13 – 22″ wheels without hitting your fender. This new design is Hands free for wheels and rims with and without a Lip. The new patent pending designed QuickTrick™ Lippins hold fast to your rim between the tire and wheel. Accuracy is within .1 degree and no lift is required. The QuickSlide™ has been featured on Detroit Muscle/PowerNation, Bangshift.com, Popular Hot Rodding & More.
The QuickTrick Fleetslide 4WD™ is built for Weekend Warriors: vans, 4×4's, jeeps and duallys. The square frame allows for ease of use with an extended center cap and varied options. It is lightweight, compact & no lift is required.
Visit QuickTrick™ at SEMA in Hot Rod Alley Overflow section at booth # 32259 for your chance to win one of the two new products. Motorsports Spokesperson Jo Coddington, widow of the legendary Boyd Coddington will be signing autographs at the booth on Tues Nov 4 and Wed Nov 5 from 3:00-4:00 PM.
Alignment Simple Solutions manufactures QuickTrick™ Products in the USA. Alignment Simple Solutions is committed to manufacturing quality products, providing jobs in the US and giving back to the community at large. QuickTrick™ Products can be found on the home website, at Summit Racing, Performance Plus and other locations. For more information visit quicktrickalignment.com or call 205-475-2419.
Contact
Alignment Simple Solutions
Tess Winningham
205-475-2419
quicktrickalignment.com

Contact