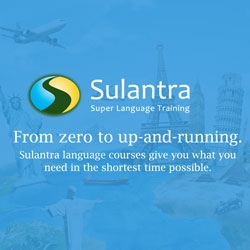 Hong Kong, Hong Kong S.A.R., August 05, 2014 --(
PR.com
)-- When traveling internationally you can often find multilingual staff to translate at a hotel front desk or in the workplace. But the minute you head for the street, the harsh reality is that you will be surrounded by the local tongue. Your options? Stare in shocked silence, wildly mime your needs, or get it together now and learn enough of the language beforehand so that you are functioning from Day 1. This is where a new website,
Sulantra.com
, comes in.
Sulantra.com is a Hong Kong-registered company with the goal of providing effective introductory language training to a wide range of users at an economical price – a one-time US $10 fee for unlimited online access to one of their Basic courses. CEO, Kurt VanVolkenburgh, says his company is dedicated to providing quality language learning to a wide range of people of diverse cultural, economic and educational backgrounds. By keeping prices low, more users are given a chance to study a new language online.
An important and unique feature of Sulantra.com is their multilingual "mesh" delivery platform that allows speakers of any language in their website to access, from their mother tongue, all other language courses they offer. Spanish speakers learning English; German speakers learning Thai; Chinese speakers learning Turkish. This is all happening on Sulantra.com. VanVolkenburgh says that no other language website is as comprehensive.
Sulantra.com focuses on completing specific tasks, for example, ordering dishes in a restaurant or bargaining in a local marketplace. Their courses have a unique spiralling format that automatically recycles core language making it easier to remember, while their user interface has been kept deliberately simple for those who are less confident on a computer. Intriguingly, the site also adjusts course material to make it gender appropriate based on your entry profile.
The website lets users tailor their own courses from a menu of functional goals and includes targeted training in conversation management, such as asking locals to repeat or speak more slowly, something other sites do not do. VanVolkenburgh says his company's training system is based on thirty years of research, including testing of learners on location to confirm how well they can communicate after taking a course in a new language.
Sulantra.com's multilingual mesh platform, combined with their unique tested training format, user accessibility, and low fees should enable the company to reach a rapidly expanding international market for online language learning. A small company with ambitious plans, their goal is to become synonymous with online language learning worldwide.