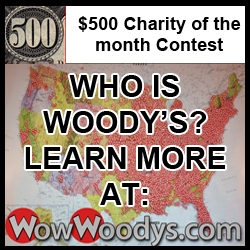 Kansas City, MO, August 07, 2014 --(
PR.com
)-- HappyBottoms.org is the big $500 winner from Woody's Automotive Group Monthly Facebook Charity Contest.
Woody's is honored to congratulate HappyBottoms.org for receiving enough Facebook votes to win the charity of the month contest sponsored by Woody's Automotive Group with locations in Kansas City, KS and Chillicothe, MO. HappyBottoms is a 501c3 non profit that collects diapers through drives and donations to distribute to low income families through their partner agencies in the Kansas City area. If you would like to learn more about this very important local charity making a difference in our community or you are in need of diapers find their website links and more at
www.wowwoodys.com/community
.
Woody's Automotive Group feels the best way to find and recognize local charities in our communities is by asking you! Do you know of a charitable organization making your community a better place? Nominate them today to win $500 in the Charity of the Month Contest on Facebook just like their very own, Theresa Wagner. Learn more and enter and vote at www.wowwoodys.com/contest and like us on facebook.com/wowwoodys
Woody's Automotive Group has dealerships in Kansas City, KS and Chillicothe, MO. WowWoodys.com offers a positive alternative to the typical dealership. Like a huge selection with all makes and over 1,000 vehicles, One low price, fair trade values, low finance rates, zero fees and no hassles. Learn why folks drive from all over the U.S. to experience the Wow Difference at www.over2000reviews.com.
Join Woody's Automotive Group staff for a very special check presentation to HappyBottoms at the Kansas City, KS location. The presentation will take place Friday 8/8/14 at 1811 Village West (right next to Panera Bread) at 1:00 p.m. They welcome photographs and video.