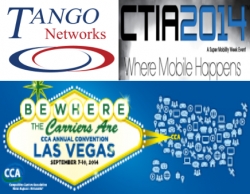 Frisco, TX, August 11, 2014 --(
PR.com
)-- Tango Networks, a leading technology provider of Business Mobility Services to service providers, channel partners and enterprises, today announced it will demonstrate its portfolio of Business Mobility Solutions at the CCA Annual Convention September 8-10, 2014 in Las Vegas, NV in booth #133.
Today's workforce is increasingly mobile, and business customers are seeking solutions to help solve business mobility challenges. Enterprise CFOs and CIOs need to leverage the power of mobility to improve business communications, meet regulatory compliance requirements, manage the overall cost of communications and extend productivity enhancing functionality to their highly mobile employees.
Tango Networks portfolio of Business Mobility Solutions enable Mobile Network Operators (MNO) to provide services that address the varying needs of their business customers. The portfolio leverages the MNO's core 4G IMS/VoLTE or legacy 2G/3G network to enable Business Mobility Solutions that work across any mobile device (without requiring software apps or clients on the mobile phone).
The solutions provide unmatched mobile unified communications and recording capabilities that are integrated with leading UC/PBX platforms from vendors including Avaya/Nortel, Cisco, Microsoft Lync, Mitel/Aastra, Unify as well as call recording platforms from ASC, NICE, Oracle (Acme Packet), and Verint.
In addition, MNO operators with "Mobile VPN" offerings can now evolve and expand their portfolio of solutions to include new value-added services for their business customers.
By supporting both legacy 2G/3G networks and next-gen 4G LTE networks simultaneously, the Tango Networks portfolio enables service providers to efficiently migrate their networks to IMS/VoLTE without requiring an IM-SSF (IMS/IN Gateway) or IMS Centralized Services.
Tango Networks portfolio of Business Mobility Services includes:
• Mobile UC Integration – Integrates mobile phones into the business unified communications environment (Cloud or Premise-based) from leading vendors making them a seamless extension of the enterprise network
• Mobile UC/PBX – Mobile-only solution that addresses the needs of highly mobile business professionals that need to keep their existing business number, but want to conduct business exclusively on the mobile phone
• Mobile Call Recording – Enables the ability to record mobile calls for Financial Services, Healthcare, Legal, and Government customers to meet regulatory and risk mitigation requirements
• Business Messaging – Enables Single Number functionality for voice, SMS and IM keeping the enterprise phone number central to conducting business no matter where employees are located, which device they are using, or how they want to communicate
"Tango Networks' portfolio of solutions uniquely positions our Mobile Network Operator customers to meet the diverse needs of Small Businesses, Enterprises, and their highly mobile workforces," said Al Leo, Senior Vice President Sales – Americas at Tango Networks. "Our market-leading application portfolio, which includes Mobile UC Integration, Mobile Call Recording, Business Messaging, and Mobile UC/PBX services provides the seamless mobility end users require to effectively conduct business."
Tango Networks will be demonstrating the solutions live at CCA Annual Convention September 8-10 in Las Vegas, NV in booth #133 and attending CTIA 2014 Super Mobility Week. Interested parties can request a meeting by sending an email to sales@tango-networks.com, or can visit Tango Networks in booth #133 during the show.
About Tango Networks
Tango Networks enables service providers, channel partners and enterprises to offer Mobile Business Services to their customers and workforce. Using its unique and patented federated design, Tango Networks' award-winning edge services platform offers specialized service capabilities across 4G IMS/VoLTE, 3G and 2G networks that work with all mobile phones, providing value to mobile and fixed service providers, enterprises and consumers.
Services include Mobile Unified Communications and PBX integration, Mobile Call Recording, SIP Trunking, Business Messaging Service, Business Continuity, Multi-line, Mobile PBX, Mobile Policy Control and Responsible Driver System.
Tango Networks' customers include Tier 1 service providers in North America and Europe and a rapidly growing base of enterprise and government customers worldwide. To learn more about Tango Networks, please visit http://www.tango-networks.com or follow Tango Networks on Twitter at http://twitter.com/tangonetworks.