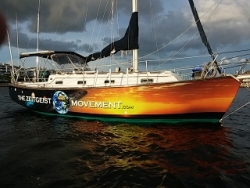 Palmetto, FL, August 11, 2014 --(
PR.com
)-- 59-year old David Wayne, degreed electrical engineer, master certified marine and radio technician, scuba divemaster and sailboat owner, didn't start out with intentions to make a difference, he just got fed up. It started with his introduction to The Zeitgeist Movement (TZM) in 2008 by way of its first two films, his subsequent catharsis over time with its related knowledge and understandings, and culminated this past weekend, with David pulling into his mooring just west of Regatta Pointe Marina, Palmetto FL on his vintage Island Packet 31-foot sailboat, freshly wrapped with bold end-to-end TZM graphics and name to match: Zeitgeist Ambassador.
The What Movement?
For the uninitiated, the Zeitgeist Movement is an all-volunteer global sustainability advocacy group. It is not a political movement. It does not recognize nations, governments, races, religions, creeds or class. Its understandings (as detailed on the Movement website thezeitgestmovement.com and elsewhere) conclude that these are now false, outdated distinctions that are far from positive factors for true collective human growth and potential. Their basis is in power division and stratification, not unity and equality, which is the TZM goal. Thus the Movement's activities, events, and in this case, art, revolve around educating people to the reasoning behind, and also the necessity of, migrating the world to a new 'Natural Law resource based economic model,' instead of the present, arguably destructive and obsolete, fiat money-based economic model, along with other critically important social redesign tasks (for example actually ending world poverty, hunger and preventable disease) by applying technology to the problem, not politics. Stated in its most distilled form, the Movement is about 'The application of The Scientific Method for social concern.'
Background
David had been involved with TZM on and off since 2008, when he first saw and grasped the first two films of the now infamous Zeitgeist film trilogy online (at zeitgeistmovie.com), by artist and filmmaker Peter Joseph. Impressed, he stepped up and became TZM Illinois state chapter coordinator for two years out of the Chicago area, before relocating to Florida in 2011. He continued to host occasional TZM events with fellow Florida members thereafter in both Orlando and Tampa, such as a booth at Earth Day at Lake Eola Park in 2012. Along the way he also helped out on Linguistic Team International (LTI), an affinity group--also all volunteer--dedicated to transcribing and translating into multiple languages, pertinent RBE (resource based economy)-oriented related films and video lectures for free distribution worldwide, to educate people of all nations to RBE ideas and understandings. For example, Peter Joseph's third film 'Zeitgeist Moving Forward' has been translated into 29 languages.
The Boat and its Art
The base graphics and layout is David's design, refined further--and the vinyl wrap work eventually performed--by Sarasota Wraps of Sarasota FL. David readily admits the long narrow side imagery was inspired by the classic TZM highway banners originally popularized by the ZMCA (Zeitgeist Movement California) chapters. The hull sides present the earth in its larger setting of the solar system, and on the stern is a playful heart logo also symbolic of Earth, within the broader universe. On the solar roof forward panel is the LTI name and logo, promoting that team, and on the aft panel are the simple words in bold uppercase "IT MAKES SENSE."
It Makes Sense
In a prepared statement David said, "The Zeitgeist Movement is unstoppable because it makes sense. I wanted to strongly express this in the artwork. It is intended to turn people's heads, to coax them into learning more about what is really going on in the world, instead of say just the mainstream media route and its mundane profit-oriented programming, let alone its deliberate gearing towards contrived 'us-vs-them' societal division and excessive violence." David continued, "The graphical art helps put the Earth in perspective as a unique, abundant but fragile blue green life-sustaining marble, teeming with life and natural beauty as reflected in its oceanic realm, drifting along with its equally beautiful but lifeless neighbor planets, in the cold empty blackness of space. The simple question it poses is: Don't you think it's time we start treating it that way, instead of decimating it like we are now?"
A new breed of businessman
David is also taking this opportunity to highlight his part time Marine Technician business in one of the article's photos: David Wayne Marine Electric LLC, but is quick to put it into its proper context. "Anyone who thinks I am using The Zeitgeist Movement to promote my company would have it exactly backwards. To the contrary, it is my company that is promoting the Movement. I view myself as one of the first of a new breed of businessman, knowledgeable, informed, and proudly promoting the benefits of the new moneyless so called 'Abundance Zeitgeist' that lies ahead, while still being forced to survive as a 'busy-ness' slave within the monetary system of the oppressive--and very obsolete--'Scarcity Zeitgeist' of today." He continues. "To date, like many grass roots social movements before it, The Zeitgeist Movement has been dismissed as an obtuse cult and/or ridiculed as not viable by pundits relentlessly, along with its companion attribute of being made up by mostly poor people with no clout, i.e., the masses. Well, I am certainly not rich and have my own bills and debts to pay, but my credit is good, I am college educated, I clearly understand from an engineering and technical view the immense benefits of moving towards the global Resource-based economic model as quickly as possible, and I welcome all comers to have an intelligent conversation about it; a self-appointed ambassador for the Movement if you will, hence the boat name. My aim is to turn up the visibility here in the public eye with such awareness activism, it's time for the Movement to step out of the shadows and into the mainstream, and I look forward to more such 'Ambassadors' to step up and follow in time, in their own way."
It's the Planet Stupid
As for David's driving motivation, his answer is as blunt as it is logical. "I'm fed up! Think about it: Today we live in a world of endless war, poverty, hunger, crime, fear, disease, despair, corruption, pollution, and so on, and none of it is getting any better. Now consider this: look around and see how many things there are that were invented by a politician. Zero. Although all of these things are pertinent, at the top of my personal list I am disgusted at the absolute devastation of the environment on a global scale--including climate change--in particular the growing pollution of the world's oceans and waterways, and the runaway extinction of the world's surreally beautiful coral reefs: 25% extinct and counting. I live here too and want to continue enjoying them, and for generations to come as well. A perfect example of this is the Fukushima dead zone continuing to sprawl out into the Pacific Ocean at an alarming rate. It may already be too late: we don't have a spare Pacific Ocean!"
Let the machines do the work
David continues: "The other reason I'm fed up has to do with technology plainly being barred from us as a society, for example readily available computerized machine automation to free mankind from human labor at practically every level, forever." On this point, he borrows a succinct line directly from TZM founder Peter Joseph, from his second feature film 'Zeitgeist Addendum:' "We have the resources and technology [today] to enable this [level of abundance without a price tag] at a minimum, along with the ability to raise the standard of living so high, that people in the future will look back at our civilization now and gawk at how primitive and immature our society was." David, along with other TZM advocates and members worldwide, clearly sees this potential right now from a technical, social, and environmental view, and gawks at--and is fed up with—the very sad state of affairs in the world today in which such readily available technology, including of course clean energy alternatives to help turn around the environment, is being deliberately held back by the global corporatocracy and moneyed class, with their abhorrent behavioral patterns of heroin-like addiction to profit and unsustainable methods of conduct, while keeping the rest of us in a lifelong prison of debt slavery, technological squalor, and a polluted planet. His parting remark is, "History is patiently waiting."
About the Zeitgeist Movement
Founded in 2008 by artist and filmmaker Peter Joseph, The Zeitgeist Movement (TZM) is a sustainability advocacy organization, which conducts community based activism and awareness actions through a network of global/regional chapters, project teams, annual events, media and charity work. The movement's principle focus includes the recognition that the majority of the social problems that plague the human species at this time are not the sole result of some institutional corruption, absolute scarcity, a political policy, a flaw of "human nature" or other commonly held assumptions of causality. Rather, the movement recognizes that issues such as poverty, corruption, pollution, homelessness, war, starvation and the like appear to be "symptoms" born out of an outdated social structure. For more information and the free pdf ebook 'The Zeitgeist Movement Defined: Realizing a New Train of Thought,' visit
http://thezeitgeistmovement.com/
. For the eye-opening and educational Zeitgeist film trilogy by Peter Joseph that provides a solid foundation for understanding both our aberrant behavior of the past and the viable positive solutions going forward, visit
http://zeitgeistmovie.com/
.
About Linguistic Team International
Linguistic Team International (LTI) handles all of the official transcription & translation work for The Zeitgeist Movement and The Venus Project (of Venus Florida, the early catalyst of TZM). LTI seeks native speakers of all languages, including English, to help them help the world build a deep understanding about the global RBE (Resource Based Economy) proposal, via quality transcriptions and translations of pertinent related videos. To quote Ray, a.k.a. Gman, LTI Global Coordinator, "It's a wonderfully big challenge and very necessary toward providing RBE-awareness to people all around the world." If you are good with the more technical or IT side of information-sharing (manipulating audio and video files, DVD's, tutorials, etc.), if you have strong experience with public outreach (social media, communications, etc.), or if you know how to develop server-side software, your skills are also very much needed. For more information visit their forum, and introduce yourself, at
http://forum.linguisticteam.org/
.
About David Wayne and Zeitgeist Ambassador
David Wayne graduated college with honors as electrical engineer (BSEE, Pitt 1976) and is still a working professional today. He is also an ABYC (American Boat and Yacht Council) Master Certified Technician, an FCC (Federal Communications Commission) licensed amateur extra class radio operator (KZ3MRB) and full FCC commercial technician, comprising GROL (General Radiotelephone Operators License), Radar endorsement, and GMDSS (Global Marine Distress Safety System) operator/maintainer certifications. He is also a PADI (Professional Association of Dive Instructors) Divemaster. David is a single divorcee and currently resides in Palmetto FL, on his IP31 sailboat Zeitgeist Ambassador, and loves sailing. Follow David Wayne on Facebook at https://www.facebook.com/david.wayne.370177. His marine technician website is http://davidwaynemarine.com/ and his Zeitgeist Ambassador website is http://www.zeitgeistambassador.net/.