Lehigh University Switches to Unimarket eProcurement
Lehigh University switches to Unimarket to provide its full integrated suite of Sourcing, eProcurement, eInvoicing and Contract Management Solutions.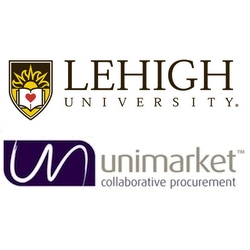 Philadelphia, PA, August 12, 2014 --(
PR.com
)-- Lehigh University, one of the top private research universities in the country, has decided to replace its existing electronic procurement platform with Unimarket's cloud-based solution to improve the performance of their procurement processes. The decision to transition from the previous service provider comes after a comprehensive market evaluation, which confirmed Unimarket's superior functionality, broader feature set, improved automation and more flexible integration with their Ellucian Banner ERP.
According to Jane Altemose, Strategic Sourcing Manager at Lehigh University, "Unimarket will provide greater visibility of spend, helping ensure more control over the entire purchasing process. Purchasing through a single eMarketplace of approved suppliers reduces processing time, improves operational efficiencies and leverages negotiated contracts while promoting policy compliance and adherence to University financial rules."
"The intuitive nature of the Unimarket platform and the ability to scale multiple functions across the campus community are two crucial components to a successful implementation at Lehigh," continued Altemose. "The many integration touch-points with Ellucian's Banner ERP offers the ability to configure the solution to the various needs of our campus customers, enabling us to automate more functionality than we were capable of with the previous system."
"Furthermore," she said, "administrative tasks to enable and train users are minimized by the well-designed dashboard and administration tools offered in Unimarket. We look forward to realizing the full benefits of the Unimarket procure-to-pay eProcurement solution."
Peter Kane, CEO of Unimarket adds, "Unimarket is delighted to add Lehigh University to our growing customer list. Our complete procure-to-pay solution will be integrated with Lehigh's Banner ERP system using an open-source interface through our proprietary middleware."
With a particular focus on easing integration with suppliers, Unimarket is well known for its single-instance, multi-tenant architecture which allows for accelerated supplier enablement for new customers, with most projects achieving 'Go-Live' within a matter of months.
"Unimarket's intuitive user interface and proven reputation for customer service will enable Lehigh to transition from its current eProcurement provider easily and efficiently", continued Kane. "We look forward to providing this prestigious university with many added functionalities including eSourcing, eInvoicing and Contract Management through our comprehensive platform."
"Lehigh's decision to change is a win for this university, and also offers an opportunity for other institutions to review their existing e-procurement solutions. While a number of universities have already invested in e-marketplaces, they often find themselves constrained by limited functionality, such as an absence of e-invoicing or integrated sourcing, or facing prohibitive costs associated with enabling additional suppliers."
About Lehigh University:
Lehigh University is an American private research university located in Bethlehem, Pennsylvania. It was established in 1865 by businessman Asa Packer and has grown to include studies in a wide variety of disciplines. As of 2012, the university comprises 4,883 undergraduate students and 2,187 graduate students. Lehigh is considered one of the twenty-four Hidden Ivies in the Northeastern United States.
Lehigh is ranked 12th in the nation, according to The Wall Street Journal, in college return on investment (ROI) and Lehigh is ranked 41st of all Universities in the nation according to the 2014 edition of Best Colleges. The university has over 680 faculty members; awards and honors recognizing Lehigh faculty and alumni include the Nobel Prize, the Pulitzer Prize, Fulbright Fellowship, and membership in the American Academy of Arts & Sciences and the National Academy of Sciences.
For more information visit: http://www.lehigh.edu/
About Unimarket:
Unimarket was formed in 2005 to deliver collaborative electronic procurement solutions for businesses using the latest technology to enable them to easily connect and transact with their suppliers in a single portal to save costs, improve efficiency, and reduce paperwork. The solution uses a multi-tenant architecture and is provided on a Software-as-a-Service (SaaS) business model.
The hallmarks of Unimarket's solution are ease-of-use and an open-market philosophy of unlimited users and unlimited supplier connections delivered in a cost-effective manner. Having great technology is just the enabler so Unimarket takes a unique partnership approach with all their customers to ensure they get the most from their product on an on-going basis, including proactive assistance with supplier enablement, organizational rollout, best practice process improvements, and more.
For more information visit: http://www.unimarket.com
Contact
Unimarket NA, Inc.
Daniel Perry
888-868-5929
www.unimarket.com

Contact
Multimedia
Find out more about Unimarket's word-class procure to pay solutions, customer-driven support, and strategically aligned business model. Whether you are looking for eProcurement, or are looking to change from your existing provider, Unimarket has the experience, solutions and expertise to help.