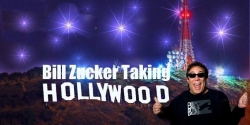 Hollywood, CA, August 19, 2014 --(
PR.com
)-- You're invited to look for the spotlights in the sky announcing the Pre-Emmy Red Carpet Premiere Party celebrating and viewing Bill Zucker on the hit TV show Beverly Hills Pawn.
Bring all your friends
Open to the Public
Wednesday August 20, 2014
Saddle Ranch on the Sunset Strip
8371 Sunset Blvd.
West Hollywood, CA 90069
(323) 656-2007
No Cover
Valet Parking
Red Carpet 7:30 PM-8:30 PM Sharp!
Episode airs on TV at 9:00 PM on both coasts on ReelzChannel and again at 12:00 AM and 1:30 AM
Dress to Impress
LA production co. will be filming for new show Bill Zucker "Taking Hollywood"
If you are not in Cali, watch it at home at 9:00PM
If you are in Cali, Don't miss it...meet the cast of Beverly Hills Pawn, Hollywood Hillbillies and Mansion Hunters!
See you there!