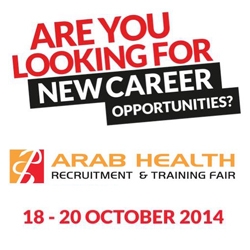 Dubai, United Arab Emirates, September 02, 2014 --(
PR.com
)-- The Arab Health Recruitment and Training Fair is a three-day congress and exhibition that caters to healthcare professionals' training and CME accreditation requirements. The event takes for the first time from 18 -20 October 2014 at the Abu Dhabi National Exhibition Centre, Abu Dhabi, UAE.
Arab Health Recruitment and Training Fair is organised by Informa Exhibitions' Life Sciences Division, also organisers of Arab Health, who bring a wealth of knowledge and experience of the exhibition and conference industry, ensuring the event's growth and success as the region's premier Healthcare recruitment and training event.
"The Arab Health Recruitment and Training Fair conferences are the region's premier platform that provides healthcare professionals the opportunity to benefit from the experience of world renowned speakers in the healthcare industry while simultaneously gaining CME accreditation" says Simon Page, Managing director, Informa Life Sciences Exhibitions.
The Training & Recruitment Fair will host 18 free-to-attend conferences with selected conferences offering CME credits. The conference covers a diverse range of healthcare fields such as, paediatrics, gynaecology, advances in surgery, diabetes, biomedical engineering, imaging and radiology, nursing, general cardiology, pharmacology conference, laboratory management, ENT, gastroenterology, human resources and healthcare recruitment, regulatory guidelines, healthcare sales & marketing, professional and personal development in administration, dermatology, and sports medicine.
"Delegates can be certain that the content of these
healthcare training conferences
has been well researched to ensure its relevance and suitability. They can also rest assured that the overall objective of the conference is to either update or further improve their competence, skills and knowledge within their specific discipline," says Mr Page.
The Arab Health Recruitment & Training Fair is expected to attract 5,000 qualified healthcare professionals. This provides the opportunity for face-to-face interactions, and to build long-term business relationships with the region's leading consultants, specialists, doctors, nurses, surgeons and healthcare professionals.