"Throw Like a Girl" Turns a Sexist Slam Into a Business Grand Slam
Throw Like a Girl! launched 3 weeks ago with the goal to turn change an attitude about girl athletic abilities into a positive one. Throwlikeagirl.com offers trendy, sporty, quality apparel & accessories and promotes team sports.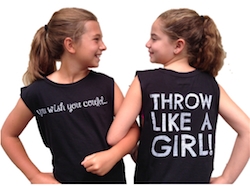 Bannockburn, IL, September 10, 2014 --(
PR.com
)-- The internet and visual media broadcasted around the world a little league fan in the stands proudly waving a homemade sign "I want to throw like a girl." He, like others supporting Mo'ne Davis in her Cinderella story decided that, to "throw like a girl," wasn't so bad after all. His mantra however would soon be forgotten as are most athletic, in-the-heat-of-the-moment proclamations.
Enter, Vicki Martin. About a year ago, Ms. Martin the mother of an athletic 10 year-old girl made the decision to let capitalism help her turn the phrase 'throw like a girl' from a sexist slam into a business grand slam. Vicki created the apparel and sports accessory company, Throw Like a Girl.com, with the idea that taking the negative stigma away from the metaphor would help to empower young woman in all athletic endeavors. Mo'ne Davis came along, and for a short couple of weeks became the poster girl for Ms. Martin's campaign. Now however it is good old fashion capitalism that will continue to motivate the sports community and girls everywhere into being proud of the fact that they "Throw Like a Girl".
About Throw Like a Girl, LLC:
Throw Like a Girl!
is an apparel company, with a little bit of attitude that promotes team sports for girls. We believe that participation in athletics contributes to greater self-esteem.
We aim to dress girls in sporty, trendy, quality clothing that can be worn at home, school or practice.
Our goal is to be a nationally recognized brand that encourages daughters to be proud that they Throw Like a Girl!
Media Contact:
Vicki Martin
vfmartin@comcast.net
(888) 676-0464
Contact
Throw Like a Girl
Vicki Martin
847-236-0610
www.throwlikeagirl.com
847-239-0120

Contact