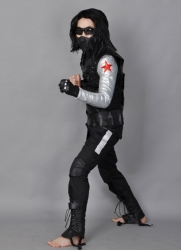 Guangzhou, China, September 15, 2014 --(
PR.com
)-- The online costume site, Procosplay.com, has released a line of Captain America cosplay costumes just in time for Halloween. The line features the costumes of popular characters from the newest installment of the Captain Americamovie series, The Winter Soldier released in 2014.
"The cosplay community will be certainly be excited to celebrate Halloween dressed up as their favorite Captain America characters. Our costumes are well-made and professionally designed. We have a wide variety of characters ranging from Disney movies to Japanese Anime allowing everyone to express themselves through whatever character they choose," a spokesman said.
Captain America costume characters include Natasha Romanoff, Bucky Barnes and Steve Rogers. Winter Soldier fans can embrace Bucky Barnes in a black leather costume consisting of a sleeveless jacket with laced up front, to be worn over a tight fitting leather shirt with black pants. A black mask, and black and silver glove are also available.
The Black Widow Natasha Romanoff Cosplay Costume embodies the appeal of this intense character and includes a black sackcloth jumpsuit with leather details, black leather belt with black buckle, two black leather belt with bags, black leather fingerless gloves, black leather arm bands, and a pair of black leather shoe covers.
Fan can also get into the spirit of Steve Rogers with a tight fitting shirt and pants bearing the white lines and a white star. The costume is accessorized with a dark brown belt with silver buckle, straps over the shoulders and brown straps above the ankles. Gloves and a blue mask complement the look.
An array of other character costumes are also available in various sizes, including TheX-Men, Marvel Comics Guardians of the Galaxy, Disney's Frozen, and Maleficent. Items may be ordered through the company's website.
About Procosplay
Procosplay.com is a professional design and manufacturing enterprise specializing in cosplay costumes, cosplay wigs as well as accessories. The company provides costumes for many popular animated cartoon characters, video game characters and cosplay such as Gothic Dresses, Lolita Dresses, Japan uniforms, Sailor suit and some others.
Media contact:
Email: ProCosplay.com@gmail.com
Tel:+86 020-32379556
Website:
www.procosplay.com