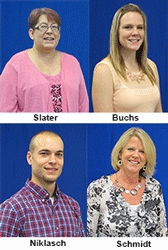 Waukesha, WI, September 30, 2014 --(
PR.com
)-- DUECO, Inc., a woman-owned business and the largest independently owned provider of Terex® Hi-Ranger bucket trucks, digger derricks and cranes in North America, announces the following promotions:
Bobbie Slater has been promoted to the newly created role of Sales & Production Support Analyst. Bobbie is responsible for booking all production orders thru DUECO's ERP system, processing change orders, analyzing production costs, generating invoices and licensing documents for the completed trucks and dispatching drivers to deliver completed trucks. Bobbie has been with DUECO for 35 years.
Nichole Buchs has been promoted to Sales & Production Support Administrator. Nichole assists Bobbie with booking customer orders, processing customer invoices and change orders, registering and licensing trucks, and dispatching drivers. Nichole joined DUECO in 2012.
DUECO is also pleased to bring the following new team members on board:
Linda Schmidt has been hired into a newly created role as Parts Sales and Materials Supervisor, with responsibility for parts sales and inventory management and the launch of a new e-commerce site and business segment providing tools and accessories to the utility and related truck markets. Prior to joining DUECO, Linda worked for Toshiba International Corporation-Power Systems Division as the spare parts/supply chain supervisor. Linda has over 20 years of experience working in a manufacturing environment as purchasing manager, inventory controller, parts manager and parts analyst.
Billy Niklasch has been hired as a Sales Coordinator, supporting customer proposals and project management of customer orders through delivery. Billy previously was an account manager with Manpower and in business development with Titus.
DUECO, Inc. is a women-owned business and the largest independent provider of Terex bucket trucks, digger derricks and cranes for the utility market in the North America. Additionally, DUECO manufactures custom utility truck bodies; distributes mini derricks/aerial lifts, stringing equipment and trailers; and supplies tools and accessories for all truck brands. Family owned and operated since 1955, DUECO's philosophy of teamwork, integrity, and open communication with customers and employees ensures high quality equipment at the best value. With headquarters in the Metro Milwaukee area, DUECO services customers 24/7 in 17 states. To learn more, visit dueco.com or call 800-558-4004.