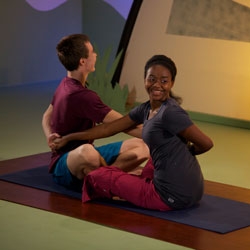 Woodland Hills, CA, October 09, 2014 --(
PR.com
)-- Shanti Generation announced that it will give away 500 DVDs of its "Partner Yoga for Teens" curriculum during the fall 2014 semester. The Partner Yoga DVD includes 10 five-minute guided sequences for middle and high school students to practice mindfulness skills with a friend, sibling, classmate or parent.
"'Partner Yoga for Teens' is a unique type of mindfulness education because it helps teens foster relationships with each other, laying a foundation of empathy that directly challenges bully culture in schools," says Abby Wills, co-founder and director of Shanti Generation and a yoga teacher for more than 15 years.
Nearly one in three students report being bullied during the school year, according to a 2013 study by the National Center for Educational Statistics. The most commonly cited characteristics of bullies are insecurity, social anxiety, overconfidence, stress and lack of empathy. Mindfulness skills, such as partner yoga and breath awareness, have been shown to transform these negative traits in teens. According to a 2012 Yoga Journal study, those who do yoga have improved emotional and mental states, an enriched sense of self, and a heightened connection to others and to our surroundings.
"A lot of times you only see the outer surface of people. Yoga helps you find an emotional connection," said Dante, age 15, after trying "Partner Yoga for Teens."
Teachers may register for the giveaway online until November 15, 2014 at
shantigeneration.com/giveaway
. Recipients will be announced in December. The giveaway is made possible by the fiscal sponsorship of The Film Collaborative.
About
Shanti Generation was founded in 2009 in response to a need for youth-centric yoga and mindfulness resources. Its programs are informed by over 16 years of fieldwork with youth in schools, community centers and yoga studios. Shanti Generation merges simplified yogic techniques in a progressive, developmental style of education that meets social, emotional, mental and physical needs of young people.