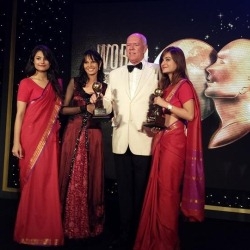 Rarotonga, Cook Islands, October 11, 2014 --(
PR.com
)-- Pacific Resort Hotel Group (PRHG) is in celebration mode once again after all three of it's Cook Islands properties were honoured at the 21st annual World Travel Awards, capturing six major awards on a special night for the hotel management company. This year's Australasia Gala Ceremony was held at The Oberoi Hotel in New Delhi, India and it certainly lived up to it's reputation as the "Travel Industry's equivalent to the Oscars".
Kicking off the night Pacific Resort Rarotonga was recognized as a regional leader for the very first time at the WTA, taking out "Australasia's Leading Boutique Resort 2014" and "Australasia's Leading Family Resort 2014," as well as the "Cook Islands' Leading Resort" award to cap off a stunning trifecta for Rarotonga's leading full service resort.
Following on Pacific Resort Aitutaki was awarded two regional awards including "Australasia's Leading Boutique Island Resort 2014" and "Australasia's Leading Resort 2014," the ultimate regional accolade in the resort category. Rounding of the award haul for PRHG was Te Manava Luxury Villas & Spa awarded "Cook Islands' Leading Villa Resort 2014" for the third consecutive year firmly consolidating its position as the Cook Islands number one luxury villa property.
Pacific Resort Hotel Group chief executive officer Greg Stanaway who was in New Delhi to receive the awards on behalf of PRHG was proud and humbled by the level of recognition received for the PRHG resort portfolio.
"Quite simply it is the ultimate accolade we can expect to achieve, these awards are great for our group and for the Cook Islands in total," says Stanaway. "Our guests have become more sophisticated and more widely travelled than ever before, they have also become more demanding and discerning, the fact that all our resorts have been acknowledged at this level indicates we are on the right track in terms of meeting and exceeding the expectations of our valued guests."
The World Travel Awards were established in 1993 to acknowledge, reward and celebrate excellence across all sectors of the tourism industry. Today, the WTA brand is recognised globally as the ultimate hallmark of quality, with winners setting the benchmark to which all others aspire.
Log on to www.pacificresort.com for more information about Pacific Resort Hotel Group - Cook Islands.
Notes to Editors
About Pacific Resort Hotel Group
PRHG develop boutique Island resorts and hospitality facilities which are underpinned by a focus on local culture, the environment, and unique architectural and landscaping design to provide discerning guests an authentic South Pacific experience. PRHG successfully owns and operates two award winning resorts under the Pacific Resort brand and a new property under the Te Manava Luxury Villas & Spa brand in the Cook Islands.
About Pacific Resort Rarotonga
Authentic Boutique… Located in the South Pacific island nation of the Cook Islands Pacific Resort is Rarotonga's leading full-service authentic boutique resort situated in an unrivaled location on the glorious white sands of Muri beach. This premium boutique resort offers a perfect blend of modern comforts and traditional island hospitality. A place where simple, lazy days meet luxurious evenings. And where the friendly, gracious staff meet your every request. For more information visit www.pacificresort.com
About Pacific Resort Aitutaki
Secluded Luxury…Like a siren of the Pacific, Aitutaki, Cook Islands, beckons you. This magical place, full of South Seas idyll and romance, is home to Pacific Resort Aitutaki, an enclave of privacy, refinement and luxury, that seduces even the most discerning traveler. Pacific Resort Aitutaki member of the Small Luxury Hotels of the World collection has just 27 luxurious 'absolute beachfront' bungalows, suites and villas all with their own personal, panoramic view of Aitutaki's world-famous lagoon, where every sunset majestically captures the colours of the lagoon and the ocean beyond. For more information visit
www.pacificresort.com
About Te Manava Luxury Villas & Spa
The road less travelled…You're a traveler who appreciates beautiful surroundings and luxurious five star accommodation… and you also value your independence. Te Manava Luxury Villas & Spa has been designed just for you. This new Cook Islands concept in luxury accommodation gives you the freedom to personalise your own leisure experience. Set on the beautiful white sand beach of Rarotonga's stunning Muri lagoon, your private villa awaits. How you choose to use it is completely up to you. For more information visit www.temanava.com
About World Travel Awards
Acknowledged across the globe as the hallmark of industry excellence, WTA has developed into the most prestigious and comprehensive awards programme in travel and tourism and this year celebrates its 21st anniversary. The first ever ceremony was held in Hollywood in 1994 and since then, WTA has hosted gala ceremonies each year to celebrate the best in the international travel industry.