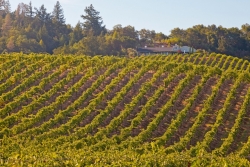 Glendale, AZ, October 14, 2014 --(
PR.com
)-- In celebration of being awarded Wine Spectator's Award of Excellence for 2014, Arrowhead Grill is expanding its yearly wine events to include the Grand Cru Experience, Tuesday, Oct. 14, at 6 p.m.
The new wine tasting event will be offered six times a year, beginning with "A Mountain Expression of Cabernet Sauvignon in Napa Valley" for $65 per person. Arrowhead Grill's sommelier will guide wine enthusiasts and novices alike through five, impeccable Napa Valley cabernet pairings.
Those in attendance will unearth the rich and exquisite tastes of cabernet sauvignon from the vineyards of Napa Valley, beginning with a pairing of cheeses and fine cuts served on an individual charcuterie board and culminating in pairings with a main entree featuring both seared and braised beef accompanied by root vegetables and potato, and a decadent dessert experience.
Wine-lovers will delight in the first tasting, Atlas Peak's Antica Cabernet Sauvignon 2010, fusing the flavors of ripe plum, blackberries, and wild berry with accents of mocha and espresso, to create unforgettable, rich flavors that finish with an elegant hint of French oak, and Mount Veeder's applauded Brandlin Estate Cabernet Sauvignon 2011.
Brandlin Estate Cabernet Sauvignon contrasts Antica, delivering a dense taste with red and black currants in a toasty wine while, featuring a perfect blend of fleshy boysenberry, black cherry, and a subtle hint of black tea and opening into a warm caramel flavoring for a refined end.
The experience continues with the main entree. A dual expression of beef of both seared and braised beef will be served with a delicious combination of roasted root vegetables and potato, perfect for pairing with Spring Mountain's Terra Valentine Cabernet Sauvignon 2011 and Howell Mountain's Charles Krug 2011.
At the night's end, the Grand Cru Experience ends well with a decadent cabernet dessert wine paired with and a bitter dark chocolate truffle with espresso cinnamon-clove toasted almonds, vanilla-grape arrope, dried currants and cherry compote for an indulgent final course.
The Grand Cru Experience premieres Tuesday, Oct. 14, at 6 p.m. The cost is $65 per person. Seating is limited and payment is due upon reservation.
Reservations can be made by (623) 566-2224 or online at http://www.arrowheadgrill.com/reservations. Participants must be at least 21 years old.
To receive information about upcoming wine tastings and dinners at Arrowhead Grill, visit http://bit.ly/E-clubAG.
To get the latest news on Arrowhead Grill's daily specials, follow Arrowhead Grill on Twitter at www.twitter.com/arrowheadgrill or on Facebook at www.facebook.com/arrowheadgrill.
About Arrowhead Grill
Established in 2008 by renowned valley chef Charles Wade Schwerd, Arrowhead Grill epitomizes Schwerd's two decades of steakhouse experience, offering Valley residents a diverse menu of top quality steak and seafood. Featuring all natural meats and fresh, mercury-free seafood selected especially for Arrowhead Grill, the Glendale-based restaurant offers something for everyone in a sophisticated setting. For more information, please visit www.arrowheadgrill.com.