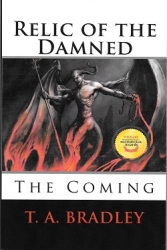 Drexel Hill, PA, October 20, 2014 --(
PR.com
)-- With Halloween right around the corner, what better way to enjoy a little scare than with a horror novel. Local Drexel, Hill author T. A. Bradley and Barren Hill Publishing celebrate this holiday by giving away free copies of the Kindle Review's 2014 Kindle Best Book Awards Finalist, "Relic of the Damned: The Coming."
This horror/thriller can be downloaded in multiple e-book formats at
www.smashwords.com/books/view/250685
Relic of the Damned: The Coming
When evil takes corporeal form in its search for a relic that will give it lasting mortality and domination, it brings hell to earth to the small town of Banderman Falls, Pennsylvania. As the terror unwinds, ordinary people must rise to a challenge that will test their faith, test their courage and demand the ultimate sacrifice for a chance at victory.
To the people of Banderman Falls, "Hell On Earth" is not just an expression!
Kelly Rose writes (at Amazon.com) - I read both books in a few days, could not put them down. I was so impressed, the story had a very 'Stephen King' feel but different enough that the author made it their own. If you like S.K. I promise you will like these books. Such a fun read!"
Jeff Brownlee says (at smashwords.com) - "This is a must read! I read 'Relic of the Damned (The Coming)' and couldn't wait to read 'Carpe Noctum (the conclusion)'. Never a dull moment. This book will keep you on the edge of your seat!"