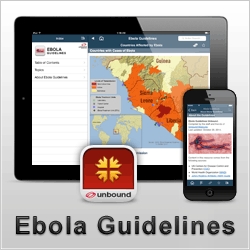 Charlottesville, VA, October 22, 2014 --(
PR.com
)--
Unbound Medicine
, a leader in knowledge management solutions for health care, today announced the release of Ebola Guidelines, a new resource available as part of the free Relief Central™ mobile app.
Ebola Guidelines consolidates and organizes the latest diagnosis, management, and prevention recommendations from leading sources such as the U.S. Centers for Disease Control and Prevention (CDC), World Health Organization (WHO), and the Johns Hopkins Antibiotic (ABX) Guide. Designed specifically for healthcare workers, public health officials, emergency medical services (EMS), and laboratory personnel, Ebola Guidelines are downloadable to smartphones and tablets so that they can be consulted in remote or restricted areas where internet service is not available.
Ebola Guidelines was developed using
uPub
™, Unbound Medicine's digital content management and online authoring module. uPub enables the Unbound authoring team to update and publish guidelines daily as new information becomes available. The Unbound Platform powers the integration of Ebola Guidelines with other resources within Relief Central including direct links to the rapidly evolving journal literature.
"The mission of Ebola Guidelines is to aid healthcare and public health workers in the field by providing an organized repository of the latest recommendations," said Bill Detmer, MD, president of Unbound Medicine. "We are pleased to support the many professionals who are serving their own or distant communities around the world."
Relief Central was a project initiated in 2010 by staff and friends of Unbound Medicine to provide timely answers to those who serve in relief situations around the world. In addition to Ebola Guidelines, the Relief Central app includes The World Factbook from the CIA, CDC's Yellow Book: Health Information for International Travel, The Field Operations Guide from the USAID, and Relief News from trusted government, non-profit, and international sources. Relief Central has been downloaded by more than 100,000 professionals in 100+ countries worldwide.
Visit
Relief Central with Ebola Guidelines
to download the app or learn more. Feedback from public health organizations and users is encouraged.
About Unbound Medicine
Unbound Medicine builds products that answer clinical questions at the point of need. With expertise in medical informatics, health technology, and medical publishing our team has delivered innovative mobile and web solutions to health care institutions and individual clinicians for 15 years. Additional information is available at
www.unboundmedicine.com
.