Meet Emmy®-Award Winning Television Host Geoff Notkin in Tucson November 1-2
Famous Meteorite Hunter Appearing at Two Downtown Events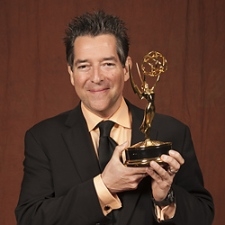 Tucson, AZ, October 24, 2014 --(
PR.com
)-- The public is invited to meet and hear from award-winning television host and meteorite expert Geoff Notkin at two special events in Tucson on Saturday, November 1 and Sunday, November 2, 2014.
Notkin currently hosts the educational TV series "STEM Journals," which was honored this month with two Emmy® Awards from the National Academy of Television Arts and Sciences, Rocky Mountain Southwest Chapter. He previously starred for three seasons on the multi award-winning Science Channel adventure series "Meteorite Men." Notkin is also a science writer, photographer, artist, musician, and global adventurer, who has explored 45 countries and some of our planet's most remote locales.
Details of Notkin's upcoming Tucson appearances are as follows:
Event: Arizona Science and Astronomy Expo (www.scienceandastronomy.com)
Location: Tucson Convention Center, 260 South Church Avenue
- Saturday, November 1 (11 am – 1 pm): Geoff will moderate an all-star panel entitled, "The Science in Science Fiction," with Master of Ceremonies Robert Reeves. Panelists include world-famous Hugo and Nebula Award-winning sci-fi author Kim Stanley Robinson, along with Dr. Phil Plait, Suzee Corbell, Chris Cokinos, and Michael Mennenga.
Event: TusCon 41 Sci-Fi, Fantasy and Horror Convention (www.tusconscificon.com)
Location: Hotel Tucson City Center InnSuites Conference Suite Resort, 475 N Granada Avenue
- Saturday, November 1 (4 pm): An Hour with Geoffrey Notkin
- Saturday, November 1 (5 pm): Autograph Signing
- Sunday, November 2 (2 pm): Panel Discussion: "Meteorites, Martial Arts, Movie-Making and More" with Geoff Notkin, Ernie Reyes Jr., Michael A. Candela, and Eric Schumacher.
At the Arizona Science and Astronomy Expo (ASAE), Notkin's commercial meteorite company, Aerolite Meteorites, LLC, will be an exhibitor, providing a dazzling display of spectacular rocks from outer space for sale, as well as hands-on activities for children. Notkin's two books, "Meteorite Hunting: How To Find Treasure From Space" and "Rock Star: Adventures Of A Meteorite Man," will also be available for purchase.
Guests attending ASAE should be on the lookout for small meteorites that will be hidden inside the venue by the Aerolite Meteorites team throughout the two-day Expo. Anyone finding a suspected meteorite on the premises is invited to bring it to the Aerolite Meteorites exhibit for verification and will be allowed to keep the space rocks they find.
The Sunday panel at TusCon 41 marks the first joint public appearance of Notkin with actor and martial artist Ernie Reyes, Jr., best known for his roles in movies such as "The Last Dragon," "Red Sonja," "Surf Ninjas," "Rush Hour 2," "The Rundown," "Indiana Jones and the Kingdom of the Crystal Skull," and "Teenage Mutant Ninja Turtles."
For a preview of this entertaining pair, tune in to "Tucson Morning Blend" on Wednesday, October 29 at 11 a.m. on KGUN9. The program streams live online at http://www.jrn.com/kgun9/watch-live.
For more information on both special events, including admission prices and detailed schedules, visit the websites shown above.
Media wishing to interview Geoff Notkin are asked to contact Becca Gladden, Director of Public Relations, at limelightwriting@aol.com.
(Photo credit: PRphotography.com)
Source: Aerolite Meteorites PR
Follow Geoff Notkin, Aerolite Meteorites, and STEM Journals on these social media platforms:
Geoff Notkin:
Twitter: @geoffnotkin
Facebook: https://www.facebook.com/GeoffNotkin
Aerolite Meteorites:
Twitter: @MeteoritesAZ
Facebook: Facebook.com/AeroliteMeteorites
STEM Journals:
Twitter: @STEMJournals
Facebook: Facebook.com/Cox7TheSTEMJournals
Contact
Limelight Writing & PR
Becca Gladden
623-210-6554
www.limelightwriting.com

Contact