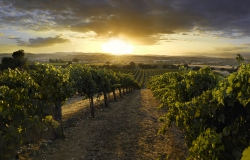 Glendale, AZ, October 28, 2014 --(
PR.com
)-- Only a few exist, the storied wineries of California's Central Coast by visionaries of the 1960s and '70s who saw the state for what it would become: the American mecca for world-class wineries and fine winemaking. With Jerry Lohr's first land acquisition in 1972, and bonding of the San Jose winery in 1974, J. Lohr Vineyards & Wines is one of the few such storied wineries, and Valley residents can experience an amazing selection of its wines during one very special evening at Arrowhead Grill on Thursday, October 30, at 6 p.m.
Led by Chairman and CEO Steve Lohr and Director of Wine Education Lawrence Lohr, the J. Lohr Dinner at Arrowhead Grill will delight the senses with six tantalizing courses. The evening will begin with a tour de force, the J. Lohr 40th Anniversary Pinot Blanc, paired with a selection of small bites, during a social hour with the Lohrs that will give guests the opportunity to taste a few light samples created by Chef Charles Wade Schwerd while getting to know the men behind the exquisite wines of the evening.
"Our J. Lohr Dinner will be a truly one-of-a-kind experience," said Chef Charles Wade Schwerd, owner of Arrowhead Grill. "With the Lohr brothers there to share their wines and their passion for winemaking, and entree pairings focused solely on the J. Lohr wines of the evening, it's sure to be an amazing night."
"Steve and I are so looking forward to sharing our wines and telling stories of our family's experiences through 40 years of California winemaking," said Lawrence Lohr.
As the evening continues, the second course rings in the fall with the J. Lohr October Night Chardonnay. Bright yellow in color with aromas of honeysuckle, tropical fruit and orange blossom honey, this floral and exotic chardonnay pairs perfectly with this course's two delightful dishes: seared sea scallop with orange reduction sauce and tuna and avocado stack.
Figs and fruits are the focus of the third course, which features J. Lohr Highlands Bench Pinot Noir, a fuschia-red pinot noir with raspberry jam, prickly pear and hazelnut aromas, layered tannins, and supple fruit flavors, paired with Chef Schwerd's own fig-stuffed quail.
The next course promises a new level of decadence with the J. Lohr 40th Anniversary Red Wine, paired with herb-crusted venison served with a J. Lohr Cabernet Bordelaise. The 40th Anniversary Red Wine is a mélange of four varieties from various J. Lohr vineyards in the Paso Robles appellation that come together as a dense, opaque blend, rich with notes of violets, rose petal, blackberries, cassis, roasted mushrooms and an underlying finish of dried herbs.
The focus of the fifth course is J. Lohr Tower Road Petite Sirah, a delicious red with preserved acidity, bright fruit character and berry flavor. This wine will be paired with a decadent serving of slow-braised beef in a petite sirah au jus. This is a course to be savored.
Wine enthusiasts will delight in the final course of the evening, Orange "Dreamsicle" Crème Brûlée, paired with J. Lohr Late Harvest Riesling, created from a meticulous selection of only the best botrytis-affected berries, with deep golden hues and natural sweetness ideal for Chef Schwerd's sweet confection.
The J. Lohr Dinner is a limited seating engagement. The cost is $125 per person, and reservations are required. RSVP for the J. Lohr Dining Experience at (623) 566-2224.
Participants must be at least 21 years of age.
Known as the West Valley's best steakhouse, Arrowhead Grill is located at 8280 W. Union Hills Drive, Glendale, AZ 85308, at Loop 101 and Union Hills.
To get the latest news about Arrowhead Grill's wine tastings and dining experiences, follow Arrowhead Grill on Twitter at www.twitter.com/arrowheadgrill or on Facebook at www.facebook.com/arrowheadgrill.
About Arrowhead Grill
Established in 2008 by renowned Valley chef Charles Wade Schwerd, Arrowhead Grill epitomizes Schwerd's two decades of steakhouse experience, offering Valley residents a diverse menu of top quality steak and seafood. Featuring all natural meats and fresh, mercury-free seafood selected especially for Arrowhead Grill, the Glendale-based restaurant offers something for everyone in a sophisticated setting. For more information, please visit www.arrowheadgrill.com.
About J. Lohr Vineyards & Wines
Founded four decades ago by Jerry Lohr, and still family-owned and operated today, J. Lohr Vineyards & Wines crafts a full line of internationally recognized wines from its 3,700 acres of sustainably-certified estate vineyards in Paso Robles, Monterey County's Arroyo Seco and Santa Lucia Highlands appellations, and St. Helena in the Napa Valley. Offering an expressive range of styles, J. Lohr produces four tiers of signature wines showcasing its estate grapes – J. Lohr Estates, J. Lohr Vineyard Series, J. Lohr Cuvée Series and J. Lohr Gesture.